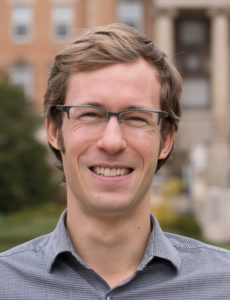 Ian Aley brings a professional background in food systems, sustainable agriculture, social justice, capacity building, and cross-cultural collaboration to the Office of Sustainability. In his role as Green Fund Program Manager, he supports student-initiated projects that improve campus sustainability.
Ian is trained as an urban planner, holding an M.S. in Urban and Regional Planning from UW–Madison. He did his undergraduate studies at the University of Toronto and holds a Permaculture Design Certificate.
For the past ten growing seasons, since moving home to Wisconsin, Ian has been a member of a multicultural collaborative farming community called the Farley Center for Peace, Justice, and Sustainability, located just west of Madison. There, he and his family care for and harvest wild and cultivated plants.