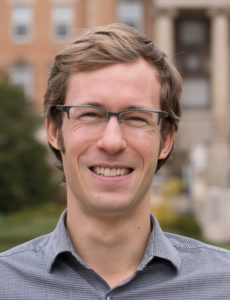 Ian Aley brings a background in food systems, social justice, capacity building, and solid waste to the Office of Sustainability. In his role as Green Fund Program Manager, he supports student-initiated projects that reduce the environmental footprint of buildings on campus. Before this, Ian worked with UW SWAP to improve processes for the reuse of surplus materials on campus.
Ian is trained as an urban planner, holding a M.S. in Urban and Regional Planning from the UW–Madison. He did his undergraduate studies at the University of Toronto, double majoring in environmental studies and urban studies with a minor in English. He holds a Permaculture Design Certificate.
Ian runs a small farm business at the Farley Center, a multicultural farm business incubator just outside of Madison, where he focuses on perennial fruit. Before coming to the Office of Sustainability he worked for five years as a telecommunications engineer.