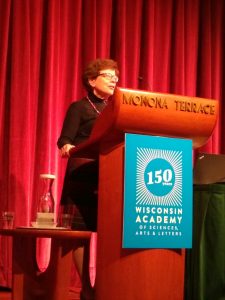 The Wisconsin Academy of Sciences, Arts and Letters' Climate Fast Forward conference brought together 300 of the state's best strategic thinkers on climate change for a working conference designed to "fast forward" solutions for carbon reduction and climate resilience in Wisconsin and throughout the world. The conference was a fitting setting for UW–Madison Chancellor Rebecca Blank to announce that UW–Madison is joining the Second Nature Resilience Commitment.
Watch opening remarks by Academy director Jane Elder, Madison Mayor Satya Rhodes-Conway, and University of Wisconsin–Madison Chancellor Rebecca Blank.
Read the Climate Fast Forward conference report.