July 12, 2016 | by Madeline Fischer
If you've spent much time at UW­–Madison, chances are you have enjoyed some time in the campus' largest laboratory. This lab, however, cannot be found within a building.
Spanning 300 acres – about a third of the total area of main campus – the Lakeshore Nature Preserve protects more than four miles of undeveloped land along the south shore of Lake Mendota, including the iconic Picnic Point, the Howard Temin Lakeshore Path, and Willow Creek.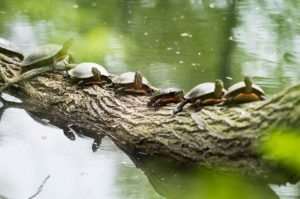 In addition to offering the campus' most picturesque thoroughfare, it is also the site of more than 72 annual research projects involving the flora, fauna, geography, and natural history of the area. Recent work includes prairie restoration, archaeological surveys, and wildlife studies.
"The Preserve is managed as a conservation area and contains numerous biologically significant plant and animal communities in its forests, marsh, and prairies," says Bryn Scriver, Lakeshore Nature Preserve's outreach specialist and volunteer coordinator. But with only three full-time staff members, volunteers play a crucial role in maintaining the space for a mix of  education, research, and outreach.
Last year, 833 individuals and more than 60 groups volunteered at the Preserve. Some may have a background in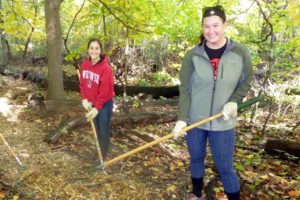 biology or restoration, but the majority are students and community members looking for an opportunity to spend time outside while helping to restore one of UW­–Madison's most-prized natural spaces. That's where the staff members come in.
"With just a little bit of training, volunteers can make a huge difference," says Scriver.
Depending on the time of year, volunteers may plant wildflowers and trees, collect native plant seeds, or put wood chips on trails to reduce erosion. Another key task for volunteers is removing invasive plants, such as buckthorn or garlic mustard. A staff member will teach volunteers how to identify invasive plants along with proper removal techniques, such as using a hand saw to cut buckthorn to a certain height.
Two Saturdays or Sundays a month, year-round, anyone can stop by the Preserve for drop-in volunteering work sessions. Dressing for the weather is a must, as are long pants (even in the summer), closed-toed shoes, sunscreen, and bug spray. Volunteers should come ready to learn about and remove invasive species for two or three hours, with a break midway through for snacks, a little education about the Preserve, and general socialization.
To learn more about volunteering in the Preserve and find upcoming events, see: http://lakeshorepreserve.wisc.edu/work/volunteer.htm