Members of the University of Wisconsin-Madison "green scene," student organizations who focus primarily on environmental and sustainability-related themes, will gather on the Lakeshore Path for the first-ever Party on the Path Tuesday, September 10 from 3 p.m. to 7 p.m.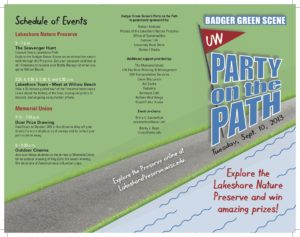 The event is sponsored by the Nelson Institute for Environmental Studies in partnership with the Office of Sustainability, Friends of the Lakeshore Nature Preserve, and Outdoor UW.
Party on the Path is an opportunity for students to explore the different "green" student organizations and offices, and connect with career advisors. The event includes door prizes, games, and a scavenger hunt, as well as a screening of the movie "King Corn" on the Memorial Union Terrace.
Student organizations will have booths set up along the Lakeshore Path, which students can visit to play games and get more information about UW-Madison's "green scene." Participants will also have the opportunity to take a 20-minute guided tour of the Lakeshore Nature Preserve.
View the schedule of events below or contact Olivia Sanderfoot for more information.