April 28, 2015  | by Maija Inveiss
Every day, thousands of students cycle in and out of UW–Madison's six dining halls without thinking much about how much food is consumed – or how much isn't. But during their own daily meals, sophomores Colin McReavy and Katherine Kokkinias began to notice the huge quantities of food waste generated.
The two students were also aware of food insecurity as a problem in Madison and wanted to do something that would tackle both issues at once.
After meeting at a national conference, McReavy and Kokkinias began the process to establish a UW–Madison branch of the Campus Kitchens Project. This national non-profit works with universities to create a sustainable approach to using leftover food from dining halls.
At its official launch last week, the Campus Kitchen at UW–Madison (CKUWM) became the 45th branch nationwide.
The students have partnered with University Dining Services to recover unserved food that otherwise would have been thrown away. The volunteers at CKUWM use the food to prepare meals to distribute to people in need.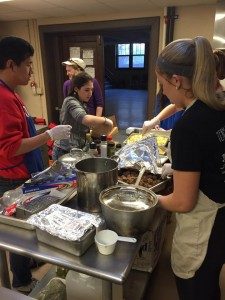 CKUWM is currently operating out of the Saint Francis House Episcopal Church kitchen and provides food for three different agencies: the Financial Aid Security Track, the Goodman Community Center and Catholic Charities Adult Day Center.
For a soft launch earlier this spring, CKUWM collected 100 pounds of food from Rheta's Market in a single night. Kokkinias says the process gives a reality check to those who have been able to take food for granted.
"There's so much worse that could happen, like I could be on the streets, I could not have food, and the fact that that is the reality for somebody else," she says. "There is something that we can do about it. It really gives you perspective."
McReavy and Kokkinias, the co-presidents of CKUWM, say they also hope to organize events and educational programs that will help people tackle broader food challenges.
"Hunger is systematic and it's going to take more than just one meal a day to fix the problem. A lot of the things we are striving to do in the future is become an organization that really tries to tackle it from the root causes," McReavy says.
The planned events will teach basic culinary techniques and other marketable skills to help get people back on their feet. McReavy says he hopes CKUWM can serve as an effective channel to bridge what he sees as a gap in current services on campus.
CKUWM is now working to find additional partners, continue serving the Madison community, and become a lasting resource for students on campus.
"We are really trying to get the students and the campus involved with this project to make it a whole campus effort to try and eliminate food waste [and] fight food insecurity throughout the community," McReavy says.
For more information on how to volunteer with the Campus Kitchen at UW-Madison, visit their Facebook page.