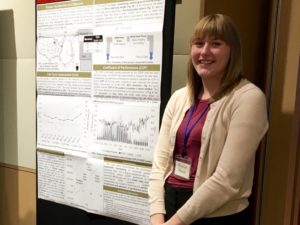 December 15, 2015 | by Sarah Olson
University of Wisconsin–Madison graduate student Eleanor Bloom presented her research on sustainable systems for residential heating and cooling at a conference last month in Kashiwa, Japan, where she earned second place in a poster session featuring student research from several countries.
The graduate school program in sustainability science at the University of Tokyo, Kashiwa Campus, hosted the conference.
The conference highlighted the school's graduate program, the Graduate Program in Sustainability Science–Global Leadership Initiative (GPSSGLI) and compared it to unique graduate student programs in sustainability globally.
Participants also visited Kashiwa's Smart City, which is part of an ongoing partnership between the city and the university in which graduate students study sustainability through real-world applications of environmental sustainability, health and wellness, and business innovation in a part of Kashiwa called the Smart City.
We sat down with Bloom, who is a graduate student in the School of Engineering, to discuss her experience at the conference.
Q: What's unique about Kashiwa's graduate school program in sustainability?
A: The graduate program is focused specifically in sustainability science, which was a new term for me. It really had a very strong social aspect to it, which is something I don't always think about as much because I'm an engineer. They also added the component called the Global Leadership Initiative because all the students go see different countries and get to experience the challenges felt in sustainability all over the world.
Q: What was the most interesting thing you experienced?
A: It was neat that I got to go to the Smart City, which is something I would not have done if I was just traveling or visiting Tokyo. The Smart City is a small-scale, sustainable city. It has residential energy tracking, public bike rentals, smart car infrastructure, and public transit via bus and train. The city also has a lot of public health programs. I think it's so interesting that the city can work with the university and to see how the city grows.
Q: What did you see in Kashiwa that you'd like to see in Madison?
A: The Kashiwa graduate program and the Smart City put a lot of emphasis on the health and wellness component of cities, which is one of the key goals for the Smart City. They provide free health centers, public gyms, and access to health resources. They really value health and longevity in their view of sustainability, and I'd like to see more of that here.
Q: How will you incorporate what you learned into your graduate studies?
A: It was good to step back out of my limited, technical view in engineering. While I'm already in a graduate program [at UW–Madison], I think the GPSSGLI would be a great program for the university to promote to prospective graduate students who want to get graduate-level education in sustainability.