With the new year right around the corner, we wanted to take the opportunity to reflect on the many ways sustainability is shaping the UW–Madison campus and experience.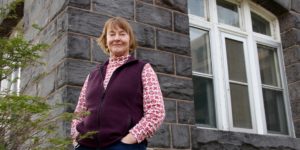 The Office of Sustainability welcomed a new interim director of education and research to its team this summer after wishing Craig Benson well in a new post at the University of Virginia. Professor Cathy Middlecamp of the Nelson Institute for Environmental Studies brings her expertise in developing sustainability curriculum to engage the office in academic programming, including the new Sustainability Certificate program.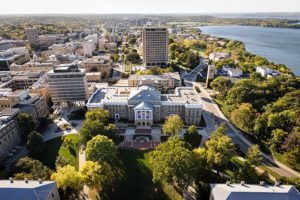 The newest version of the campus master plan, updated every 10 years, integrates elements of sustainability throughout a focus on infrastructure, energy, transportation, and usable outdoor landscapes. A draft of the new plan is expected early in 2016.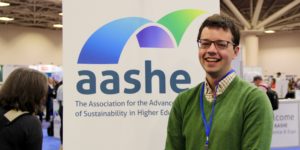 Nelson Institute graduate student Tom Bryan was honored recently for his research investigating the environmental impact of menu items served at Ginger Root in Union South. His work has also been integrated into an introductory sustainability course on campus. Watch: Learning Through Eating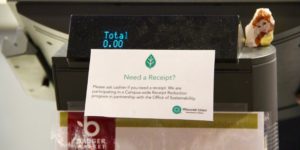 If you've eaten at a campus dining center recently, something may have been missing from your order – but perhaps you didn't even notice. Registers at University Housing and the Wisconsin Union no longer automatically print receipts for every transaction. The project is the result of an ongoing partnership between University Housing, the Wisconsin Union, and the Office of Sustainability.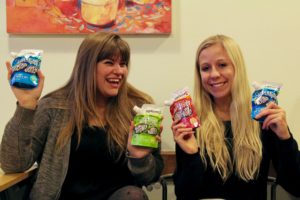 UW–Madison senior Alana McKeever (left) will be the first student to graduate with a Sustainability Certificate this December. For the past year, she has deployed her passion for both business and sustainability at Yumbutter, a Madison-based company that produces socially and environmentally responsible nut butters.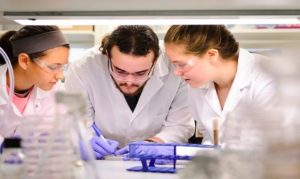 Since winning the Climate Quest competition early this year, the MIGHTi (Mission to Improve Global Health Through Insects) team has been researching and piloting mealworm microlivestock farming in Zambia as an inexpensive and environmentally sustainable food production system. Climate Quest finalists' projects ranged from meat processing to mindfulness.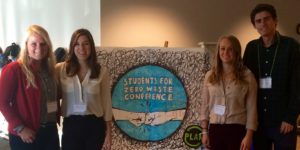 A group of Office of Sustainability interns attended the national Students for Zero Waste Conference hosted by the Post Landfill Action Network (PLAN), where they presented the results of a campus trash study and demonstrated how to conduct a safe and successful trash audit.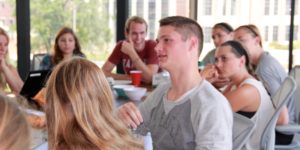 UW–Madison offered five sustainability-themed Massive Open Online Courses (MOOCs) this year on topics including Aldo Leopold's land ethic, climate change and health, and Great Lakes climate. To further campus engagement in the course material, the Office of Sustainability organized discussion groups for faculty, staff, and students participating in the MOOCs.