UW–Madison senior Maria Castillo received the Conservation and Sustainability Award at the Bucky's Award Ceremony Sunday evening.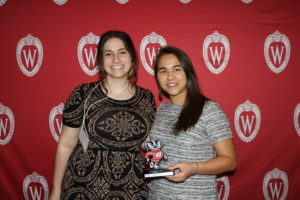 The ceremony is a recognition event hosted by the University of Wisconsin–Madison Student Leadership Program.
The Conservation and Sustainability Award, sponsored by the Office of Sustainability, is given annually to a student or organization that has gone above and beyond to make the UW–Madison campus and the broader Madison community better stewards of the environment.
Castillo won the 2017 award in recognition of her positive and substantial efforts both on and beyond the UW–Madison campus. Since transferring to UW–Madison in January 2016, she has demonstrated her commitment to social, environmental, and economic sustainability through her involvement with Badger Catholic-Vita Pura, the Community Environmental Scholars Program, and the Youth Assembly of the United Nations. While an intern with the Office of Sustainability, she helped organize a successful Donate & Take station to reduce landfilled waste during the August moveout period. And in her short tenure as a Badger, she formed teams that won funding through the Wisconsin Idea Fellowship program and the Wisconsin Energy and Sustainability Challenge.
In highlighting Castillo's accomplishments, Office of Sustainability representative Rita Kawak called out Castillo's work to reduce UW–Madison's environmental impact, her effectiveness in involving other students in her goals and actions, and her personal commitment to reducing use of resources.