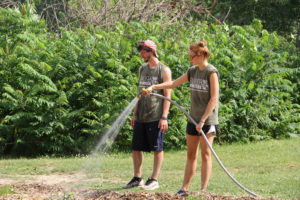 July 29, 2014 | By Sarah Olson and Katie Herrmann
Temperatures exceeding 90 degrees Fahrenheit do not keep the sustainability Badger Volunteers out of the native plant gardens at the Aldo Leopold Nature Center in Monona.
Sarah Petri and Sam Audley, University of Wisconsin–Madison students in the service program, like to dig, mulch, water and observe no matter how hot it is outside.
"I really prefer being outside doing stuff," Petri says. "I would rather be outside than do desk work."  
The students are two of nearly 150 student volunteers working at 31 sites in the Madison area this summer as part of the Badger Volunteers program, run by the UW–Madison Morgridge Center for Public Service.
Teams of students spend two to four hours with community partners each week for eight weeks on service-learning projects in education, public health and sustainability.
Sustainability emerged as a dominant theme this summer, with 24 of the sites focused on sustainability-related missions, says Badger Volunteers Coordinator Steph Harrill. Students at these sites are working on projects ranging from removing invasive species from city greenways to tending gardens to supply fresh produce to food pantries and planning bicycling outreach events.
"Sustainability is a community issue, and is best pursued when the entire community participates – and the university is a part of the Madison community," Harrill says. "Badger Volunteers is one means of engaging in sustainability efforts that promote the health and well-being of our community."
Clean lakes for a healthier community
Cleaner lakes is one aspect of community health Badger Volunteer Nick Eiden says needs improvement.
Eiden is helping the Clean Lakes Alliance survey community perception of the Yahara Lakes, which include all the Madison lakes. Clean Lakes Alliance is aiming to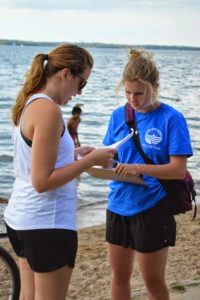 survey people at 51 sites on the lakes three times each over the summer.
Coming from the shores of Lake Michigan in Two Rivers, Wis., Eiden knows the joys of having a clean lake close to home. After the study is complete, he hopes the community will have a more positive image of the lakes.
"A lot of people said that if [the lake] was cleaner, they would use it more, and that would help the Madison local economy," says Eiden.
The survey is part of a larger economic impact study assessing the use, quality and residents' perception of the lakes in the greater Madison area. The Clean Lakes Alliance will use the findings to help engage more families and individuals with the lakes in the future.
Paul Dearlove, the Clean Lakes Alliance watershed program manager and one of the leaders of the study, says he thinks the study will provide a meaningful representation of the lakes and is a productive first step to help determine how to best serve the community.
About 1,000 individual surveys have been completed to date.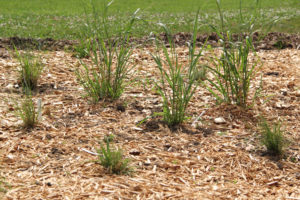 Native plant gardens foster relationships with the environment
Badger Volunteers  also help the community engage with the environment at the Aldo Leopold Nature Center at its new phenology garden.
Phenology is the study and measurement of changes in natural environments over time, according to Sierra Muñoz, director of marketing and community engagement at the Aldo Leopold Nature Center.
The phenology garden includes native Wisconsin plants, and student and tour groups are invited to try to identify native plants in the garden.
"Phenology is a hands-on way for people to practice really seeing the seasons changing around them and then start noticing and appreciating nature, which in turn helps them be better stewards of our environment," Muñoz says.
Petri, who is an environmental studies major, says working in the phenology garden has been a lesson in land stewardship, which is an integral part of sustainability.
"Sustainability is just another way of looking at how we can work with the environment," Petri says. "It's about having a conscious partnership with the environment."
People tell stories to bring life to fallen trees
For the Badger Volunteers working with Sustainable Atwood, that stewardship focuses on the human side of the partnership.
Working with this community organization, which unites residents, business owners and organizations with a stake in the Atwood, Schenk, Starkweather and Yahara neighborhoods to create a model of sustainability, students are seeking people's stories about meaningful trees in their lives.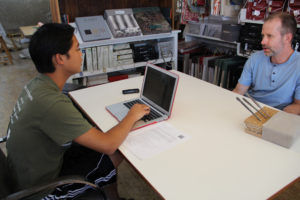 Documenting these tree stories is part of Sustainable Atwood's Wisconsin Urban Wood initiative, in which it has linked arborists, woodworkers and craftsmen to preserve wood from dead trees for reuse as furniture and other wooden items.
Sustainable Atwood is seeking to partner with the city of Madison to sustainably remove ash trees that have been damaged by the emerald ash borer and supply the ash wood to Wisconsin Urban Wood, according to Twink Jan-McMahon, a leader of the organization.
"When trees have to come down in the urban setting, they're turned to chips and firewood and we want to completely change that paradigm of thinking that trees just go away as waste," says Jan-McMahon. "We want people to think about what that tree is going to become, whether it's flooring, furniture or art."
Brandon Huynh, a UW–Madison freshman, conducts in-depth interviews with people from the community, asking them questions about specific trees they recall from their past and trees they encounter in their daily lives.
Huynh interviewed Matt Nafranowicz, the owner of a furniture reupholstery shop in the Atwood neighborhood, who recalled time spent climbing trees as a child.
Nafranowicz said he would be interested in using ash wood in a line of furniture his store produces, which is made in a traditional style with wood from the state.

Volunteer program provides opportunity to explore, share sustainability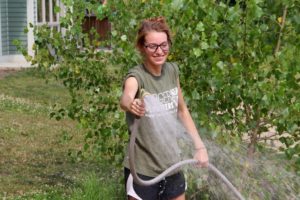 Huynh, who volunteered through the Morgridge Center at a nursing home during the spring semester, did not know much about sustainability when he got started but chose Sustainable Atwood because the work sounded interesting.
Harrill says the breadth of students who participate in the sustainability-focused Badger Volunteer sites is what makes the sites unique.
"We have the students who are already active in and aware of the sustainability efforts on campus who register for these sites, and we have students who never thought of themselves as 'green people' or were unsure how to engage with the sustainability movement," Harrill says.
The program gives students an opportunity to explore what sustainability means and how to be involved, according to Harrill, and the goal is for them to understand community issues and feel empowered to take action.
"The hope is that they are then motivated to continue supporting a sustainable, healthy community here in Madison and wherever they may live after graduation," Harrill says.
The summer Badger Volunteers program runs through August 8. Registration for the fall program starts September 2.