This article, by Kamryn Truesdale, is part of a series highlighting members of the Office of Sustainability's Experts Database. In a collaboration with instructor Madeline Fisher's course, LSC 561: Writing Science for the Public, students interviewed campus sustainability experts and produced short feature stories.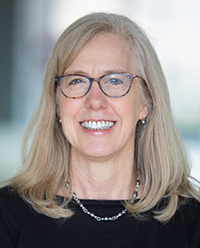 Mary Blanchard, the Associate Director at the Wisconsin Energy Institute (WEI), is working to advance the transition to sustainable energy in Wisconsin. The WEI consists of researchers working on numerous sustainable energy solutions, including transitioning from our fossil fuel-based economy toward a bioeconomy, an economic system based on the sustainable use of renewable biological resources, such as plants, to produce energy along with many other products. While Blanchard has expertise in bioenergy and bio-based products, lately she has been putting most of her effort toward creating the connections and collaborations needed to take sustainable energy solutions from the laboratory to the economy.
As support for sustainable energy solutions grows, many in Wisconsin are seeking to reduce the state's reliance on fossil fuels and embrace bio-based products and renewable energy resources, with Blanchard's work helping to build a foundation for a more sustainable future. Recently, Blanchard has been working with a grant from Innovation Incubators, a collaboration between Wells Fargo and the National Renewable Energy Laboratory. 
"The idea behind the grant is to build shared knowledge in the bioeconomy," Blanchard said.
To build a thriving bioeconomy, stakeholders in agriculture, forestry, industry, technology, and policymakers need to create connections with one another to build shared knowledge and identify opportunities. However, many of these experts live in different regions of Wisconsin, often rural areas, which makes building connections difficult.
Additionally, it can be difficult to recognize and address the diverse needs and concerns of the stakeholders involved. Forestry and agricultural producers, technology innovators, and policymakers each have their own perspectives on what is important for the bioeconomy's success. Forestry and agricultural producers may prioritize sustainable land management practices, while industry stakeholders may prioritize economic growth. Technology innovators, however, may focus on developing new bio-based products and processes to improve efficiency and reduce waste, while policymakers may prioritize environmental protection and social equity. 
So, Blanchard said, the question is: "How can we bring together our stakeholders in the bioeconomy to build shared knowledge and help them develop connections and find the resources that will help them be successful?"
The grant offers an answer, as it funds circular bioeconomy workshops that stakeholders can participate in. So far, three workshops have been held, both online and in various locations in Wisconsin, in the areas of renewable natural gas, carbon management, and sustainable aviation fuel and bio-based chemicals, or chemicals derived from biological or renewable resources.
The first three workshops were held in the 2022-23 academic year—in November, January, and February—and focused on renewable natural gas, carbon management, sustainable aviation fuels, and bio-based chemicals. More recently, on March 28, was a panel discussion moderated by Blanchard and featuring speakers specializing in producing bio-based products, biogas research and operations, sustainable agriculture techniques and resources, and renewable energy systems. The WEI held two more upcoming workshops, one in Madison on May 25 and the other in Appleton on June 21. Both workshops continued to discuss the gaps that exist in the bioeconomy and possible opportunities to address these gaps moving forward.
Ultimately, Blanchard and WEI are playing a pivotal role in advancing sustainable energy solutions and promoting a circular bioeconomy in Wisconsin. By creating connections and collaborations between stakeholders in agriculture, forestry, industry, technology, and policymaking, Blanchard's work continues to bridge the divide between stakeholders across Wisconsin, building a foundation for a more sustainable future.