Beyond the boundaries of colleges and universities, organizations like the Association for the Advancement of Sustainability in Higher Education (AASHE) tend to remain under the radar. They are similar to other specialized groups and associations, whose conferences and activities go mostly unnoticed by the general public.
The practice of sustainability, though, always reverberates into a wider community. In mid-October, several members of the UW-Madison Office of Sustainability attended AASHE's annual conference along with a large contingent from other UW System schools. It was clear to all that AASHE's role in bringing together staff, faculty, and students from higher education institutions across the country is a crucial force in making the daily lives of thousands of people more environmentally sound.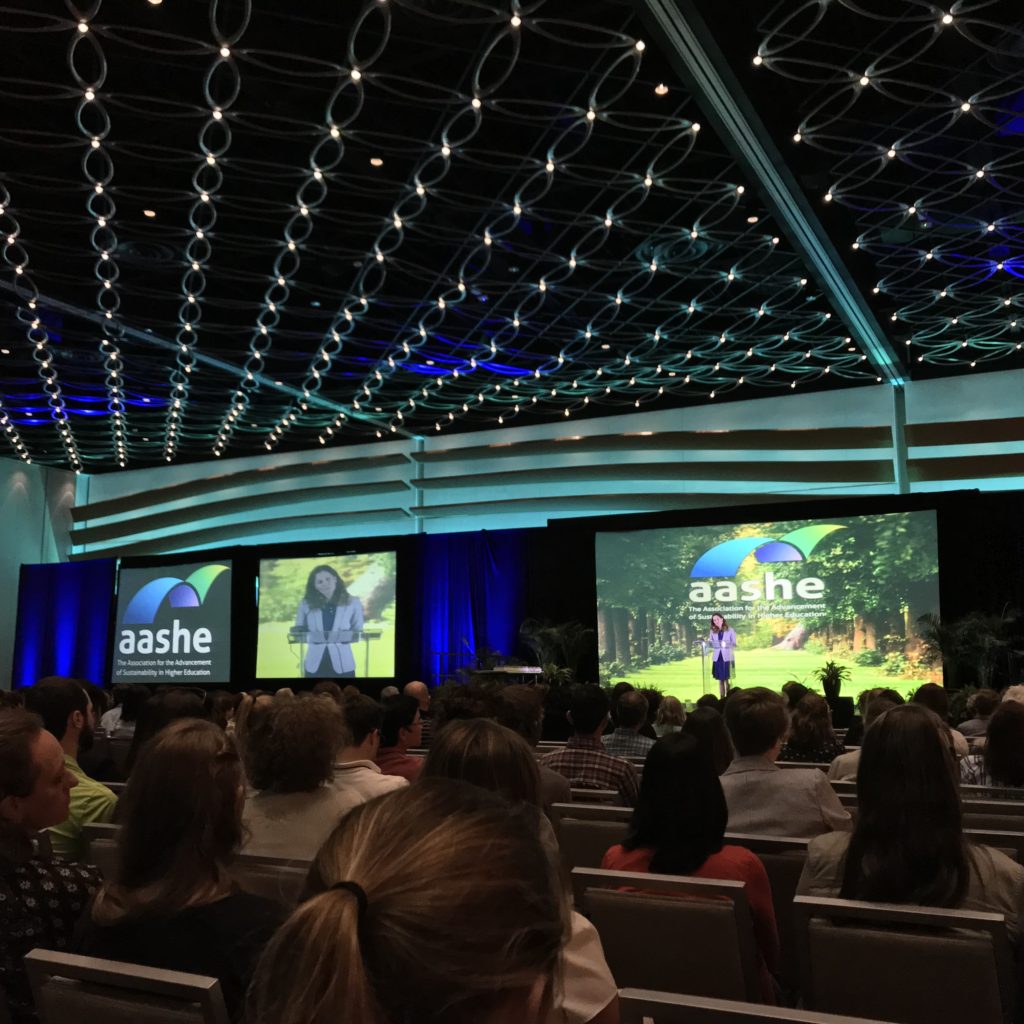 The conference was held in San Antonio, TX, and centered on the theme "Stronger in Solidarity." Alluding to recent political backlash against climate science and environmental regulations, Executive Director Meghan Fay Zahniser's opening speech underscored the importance of the higher education community in leading the way on sustainability initiatives. Her remarks set the stage for the first keynote speaker, Katherine Hayhoe, who examined the political divisiveness around climate change and offered strategies for bridging that gap.
ASM Sustainability Chair Leah Johnson was particularly struck by Hayhoe's talk, noting that "she touched on how everyone has the values to care about climate change; they just need someone to connect the dots in their lives." Hayhoe made the argument that facts—and even observable, local weather patterns—are not universally persuasive for instigating change across political lines. Instead, it is necessary to find common ground in terms of shared identity in order to convince people to come together.
Tim Lindstrom, graduate student and Interim Student Programs Director, also celebrated the fact that both the opening and closing keynotes (the latter by Heather Hackman) were given by women.
Lindstrom was one of several representatives from UW-Madison who gave presentations at the conference. His talk chronicled the story of expanded polystyrene (EPS) recycling at UW-Madison. EPS, commonly called Styrofoam (though the materials are actually distinct), is extremely common on large campuses, particular those with high levels of scientific research. Lindstrom discussed an EPA-funded pilot project that initially sought to create an EPS reuse system; ultimately, though, the UW set up a recycling and re-manufacturing relationship whereby the EPS was made into picture frames by a local vendor, Uniek. Lindstrom's talk thus highlighted both the success of this new relationship and the difficulty of achieving ideal sustainability solutions. But the "key insight I took away [from the discussion]," Lindstrom concluded, "was the extent to which university campuses really are intent on mitigating EPS waste and there is a real desire to collaborate and learn from what other campuses have tried to do. Success comes from the shared experiences of many."
Breana Nehls, Residence Hall Facilities Sustainability and Communications Coordinator, and environmental science major Sam Grindel also gave talks at the conference. Nehls related: "Alongside a great team from the University of Iowa, Colorado State, and Laurier University, I shared the story of University Housing's Move Out program. UW's high rate of student involvement in move out stood out—unlike other universities, we connect with courses to bring student learning outside of the classroom to bring the Wisconsin Idea to life."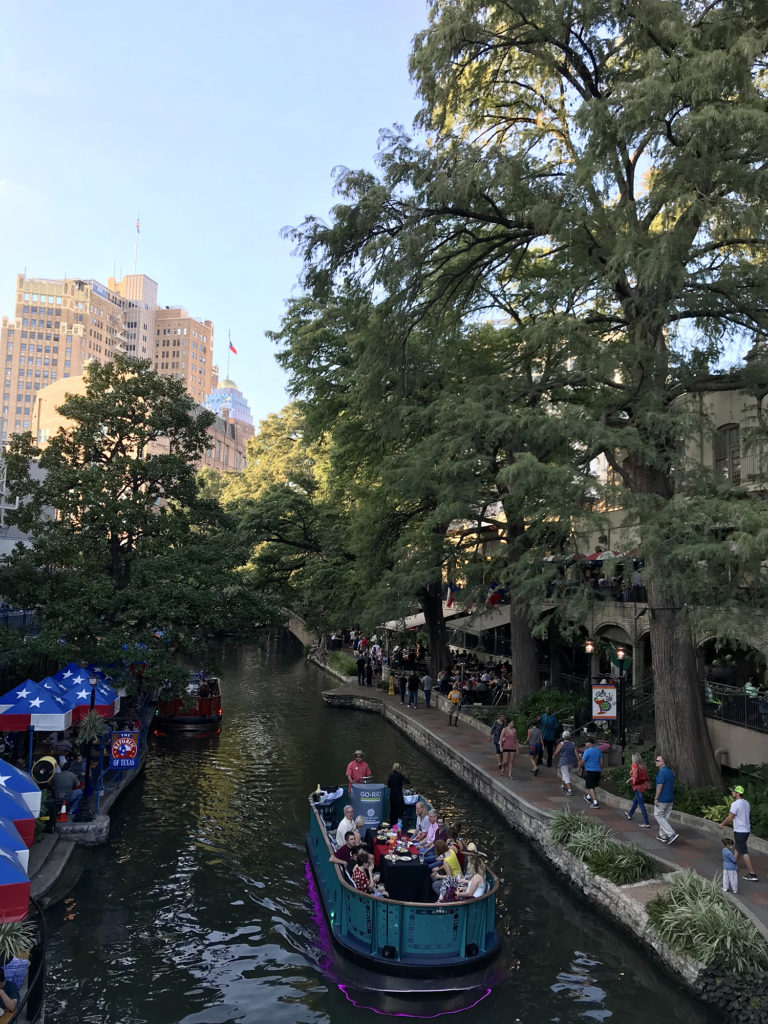 Grindel, a student of Prof. Cathy Middlecamp, spoke to a packed room about "sustainable swag." As he put it, he was interested in measuring the "sustainability of the sustainable swag items commonly used by many organizations. In particular, we researched the Camelbak water bottles given out by the [UW] Division of Housing to the incoming freshmen, and evaluated their carbon footprint by conducting a preliminary life cycle assessment." His presentation led to a larger discussion about swag items offered by sustainability programs around the country.
Prof. Middlecamp, who serves as Interim Co-Director of the Office of Sustainability, was particularly proud of UW student and former student participants: "The most exciting part of this conference was getting to see our students in action. The presentations of Sam and Tim were nothing short of terrific. Bre, as a UW alum and now housing sustainability coordinator, did us proud." Middlecamp also served as a crucial voice in a Big 10 and Friends gathering on Saturday afternoon, where participants shared strategies and discussed how to further foster a Big 10 sustainability community.
Of course, the conference featured scores of other panels during its several days, covering a huge range of topics. Sunday was dedicated to undergraduate student "summits"; in one, entitled "Networks as a Tool for Social Change," the entire room of audience members was asked to work together to network and solve challenges they were encountering at their schools. In subsequent days, other panelists covered zero waste initiatives, Greek life, best practices for curricula, campus gardens, carbon offsets, institutional land conservation, and much more. Additionally, there were intensive, half-day workshops and field trips to surrounding areas of interest. The Expo Hall—where AASHE also served its sustainable, all-vegetarian lunches and dinners—featured exhibitor booths for businesses and other entities to display their green innovations.
In all, AASHE offered motivation and inspiration thanks to the solidarity of people coming together around a common cause. As Nehls recalls, "sharing ideas, resources, and stories to create a feeling of connectedness was very rewarding and motivating."
By: Nathan Jandl