May 6, 2104 | by Sarah Olson
A University Housing receipt reduction survey found 62 percent of dining hall services customers are interested in optional receipt printing in University of Wisconsin–Madison dining halls.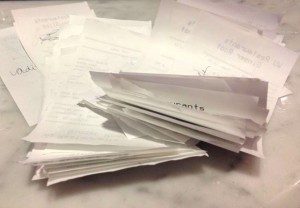 University Housing, in partnership with the Office of Sustainability and the Associated Students of Madison, conducted the survey between April 15 and 25 to gauge  residents' interest in a receipt reduction policy in campus dining halls. Currently receipt printing is mandatory at all University Housing cash registers.
More than 3,000 UW–Madison undergraduate and graduate students completed the survey, which asked respondents to indicate whether they wanted mandatory receipt printing, optional receipt printing or a paper-free receipt policy.
Of the survey respondents, 2,621 people fell into an ideal respondent population, which comprised people who had made a purchase at University Housing Dining and Culinary Services in the last year.
Results also show 35 percent of dining hall services customers surveyed said they do not want printed receipts at all, and only 3 percent of survey respondents who lived in University Housing said they want mandatory receipt printing.
University Housing is enthusiastic about the survey results and plans to explore the possibility of a pilot program for optional receipt printing.