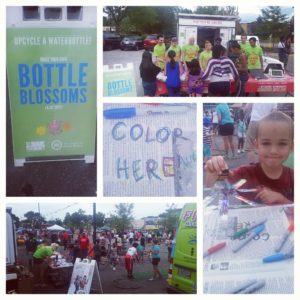 August 19, 2014 | By Rachel DePalma
WE CONSERVE has been inspiring University of Wisconsin–Madison students and faculty to reduce waste since 2006, but this summer, the organization spread its message of environmental stewardship to the Madison community.
A team of WE CONSERVE interns upcycled nearly 200 disposable plastic water bottles at Eat, Play, Art, which is a community event sponsored by the Urban League of Greater Madison.
At the event, the team taught Madison children how to create flowers and octopi out of plastic bottles, creating art out of something people would normally consider waste.
Bottle blossoms are created by cutting a plastic water bottle to create several long, narrow "petals," which are then folded open and colored to create a bloom.
In addition to upcycled crafts, WE CONSERVE also provided waste and recycling services for the event, which reached more than 200 people.
By participating in community outreach events such as Eat, Play, Art, WE CONSERVE hopes to increase its scope to reach beyond the UW–Madison campus and spread awareness of sustainability and waste reduction to the greater Madison community.