When Union South opened its doors in 2011 they rolled out their cafeteria with compost bins in nearly every corner. The patrons of Union South seemed to know what to do; the compost bins were filled with food waste and compostable containers every week. More than two years later, a recent trip to the university's food waste drop site showed that there was more contamination than the compost piles could handle.
When looking at the amount of plastic bottles and wax cups that littered the rows of compost at the West Madison Agriculture Research Station, waste experts from WE CONSERVE and the Wisconsin Unions realized something needed to be changed if the post-consumer compost program was to continue. To assess the waste stream of Union South, a trash audit was conducted pulling samples throughout the day of trash bins, recycling bins and compost containers.  Each bag of garbage, recycling, and compost was sorted to determine the amount of contamination was in each type of waste.
Auditors found 73% of the waste in trash bins was compostable. To address this issue, Union South and WE CONSERVE are working together to improve the signage that instructs people about what is and is not compostable, complete with more colorful pictures and simple messages. In addition to revamping the signage, a new reusable takeout box system will be implemented to reduce the total amount of waste coming from Union South.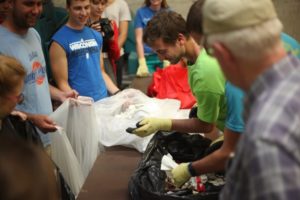 With these changes and continued assessment and evaluation, WE CONSERVE and the Wisconsin Unions have high hopes for the post-consumer compost program at UW. All unwanted food, including meat and bones, and even paper napkins can be put into the Union South compost bins. Take out containers from Ginger Root and Harvest Grains can be composted as well – just remember to take out your plastic fork and recycle it before you toss the container into the compost. With your help, we can divert tons of food waste from the landfill one apple core at a time.
To learn more about the compost program visit WE CONSERVE's website.
Article by Ellery Graves, WE CONSERVE