What's a Bioneer? Would you recognize one if you saw it? Select the true statements:
A.      Bioneer = biology + pioneer

B.      The term Bioneer is older than most UW sophomores and juniors

C.      Bioneers are innovators 

D.    All of the above
If you selected choice D, right you are! On the National Bioneers website, we learn that "Kenny Ausubel coined the word 'bioneers' in 1990 to describe social and scientific innovators who are mimicking nature's operating instructions to serve human ends."
Want to play again?  This time we are asking you about the Badger Bioneers. Which one of these items is false?
A.      Badger Bioneers have gathered for many years on our campus

B.      The Badger Bioneers will be back next spring

C.      Members of our campus community have been honored as "Badger Bioneer" Awardees
Yes, the Badger Bioneers have met on campus. And yes, our campus leaders have been honored as Badger Bioneers, not once, but twice.
But what about option B? Wrong: Badger Bioneers won't be here next spring—they're coming much sooner! Sustain Dane will kick off its 9th annual Badger Bioneers Conference on Wednesday, November 29 in the Gordon Dining and Event Center. Participants will gain new skills, partners, and ideas to make positive change happen in the Madison community through interactive learning, inspiring speakers, and collaborative sharing.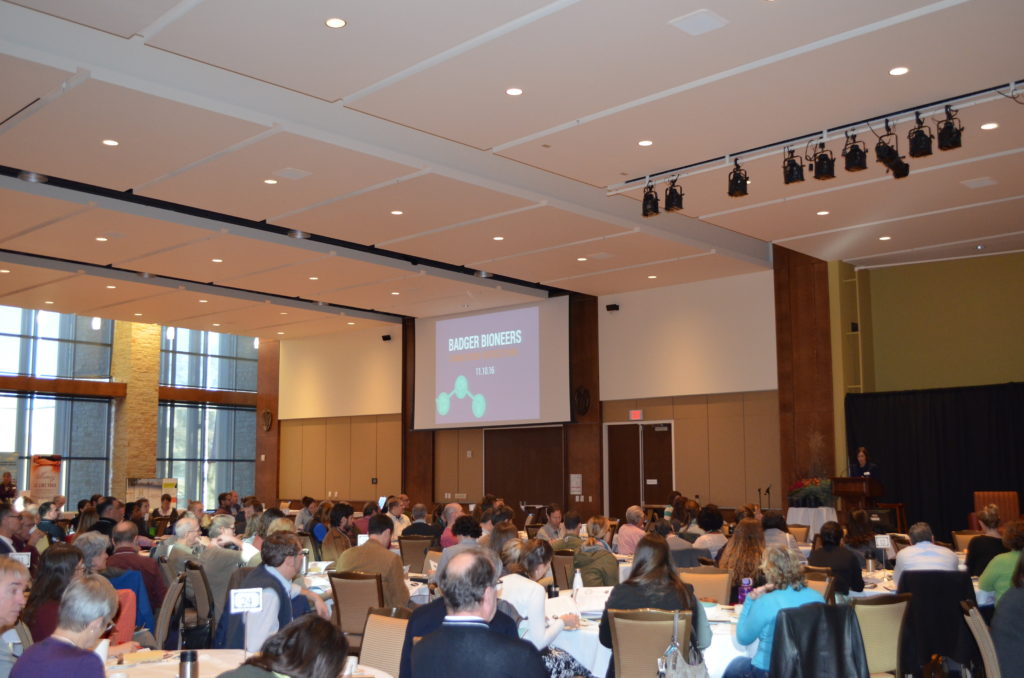 Sustain Dane works to achieve the Big 'S' for Sustainability, encompassing a strong community, just economy, and healthy planet.
Each year, Sustain Dane's Badger Bioneers Conference explores the interconnectedness of those three areas of sustainability. Participants gain new skills through out-of-the-box activities, new relationships with individuals across our community, and inspiration from local champions and national speakers. This year, Sustain Dane partnered with UW Office of Sustainability to present a 2017 conference focused on the theme of "Human(ity): Our Future Together."
Lucille Marshall, the Communications Manager of Sustain Dane, explains that Badger Bioneers "is looking at champions in our local Madison community, and really celebrating and elevating individuals, teams and organizations pioneering collaborative solutions in a way that is both intersectional and holistic."
Through Sustain Dane's Student Facilitator Program, college students from the Madison area are trained in professional facilitation. These students take on leadership roles at Sustain Dane's Badger Bioneers Conference by guiding participants in interactive activities to learn, share, and explore together. If you're interested in becoming a Badger Bioneers Student Facilitator, please contact Lucille at lucy@sustaindane.org.
This year, three local champions will be awarded with the title "Badger Bioneer" at the conference, and all nominated individuals will also be recognized. The 2017 Badger Bioneer Awardees, including Aaron Perry of Re-balanced Life Wellness Association, Natasha Smith of REAP Farm to School Program, and Project Green Teen of Shabazz City High School, will be interviewed on stage about their journey, their work, and their vision for the future. They are nominated and selected by the Madison community, and each contributes to changemaking work that encompasses the core ideas of sustainability.
"This is a conference for anyone who cares about our future and who wants to be surrounded by other people in our community who also share that vision. The special thing about this event is that we have a space for a diverse background of people in Madison to interact. Neighbors, students, educators, activists, professionals, and volunteers will unite for a full day of collaboration, learning, and inspiration," Marshall says.
For an evening of celebration and conversation with the new awardees and nominees, grab your tickets now for the 2017 Badger Bioneers Cocktail Party on Monday, September 25 from 6-8pm at Fresh Madison Market. This event raises funds to support scholarships to the Badger Bioneers Conference for those who would otherwise not be able to attend.
Register now for Sustain Dane's Badger Bioneers Conference here!
By: Trina La Susa