May 20, 2014 | by Sarah Olson
A group of University of Wisconsin–Madison students found in a trash audit this spring 38.7 percent of materials in three residence halls' trash bins could have been recycled.
The trash audit was part of Environmental Studies 126, an introductory environmental science course focused on campus sustainability initiatives. Environmental studies professor Cathy Middlecamp teaches the course.
With help from WE CONSERVE, students collected trash from Witte, Sellery and Dejope residence halls and transported it to the Union South loading dock to measure, sort and evaluate its contents.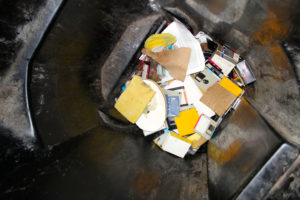 The group sorted trash into items that belonged in the trash, or "real trash," and recyclables, which were recyclable plastic, paper and aluminum products. Between the three residence halls, students collected 118.25 pounds of real trash and 74.5 pounds of recyclables.
The trash audit was the result of collaboration among several campus groups including the Office of Sustainability, Nelson Institute for Environmental Studies, Wisconsin Union, WE CONSERVE and the Division of Facilities Planning & Management.
For more information, contact Cathy Middlecamp.