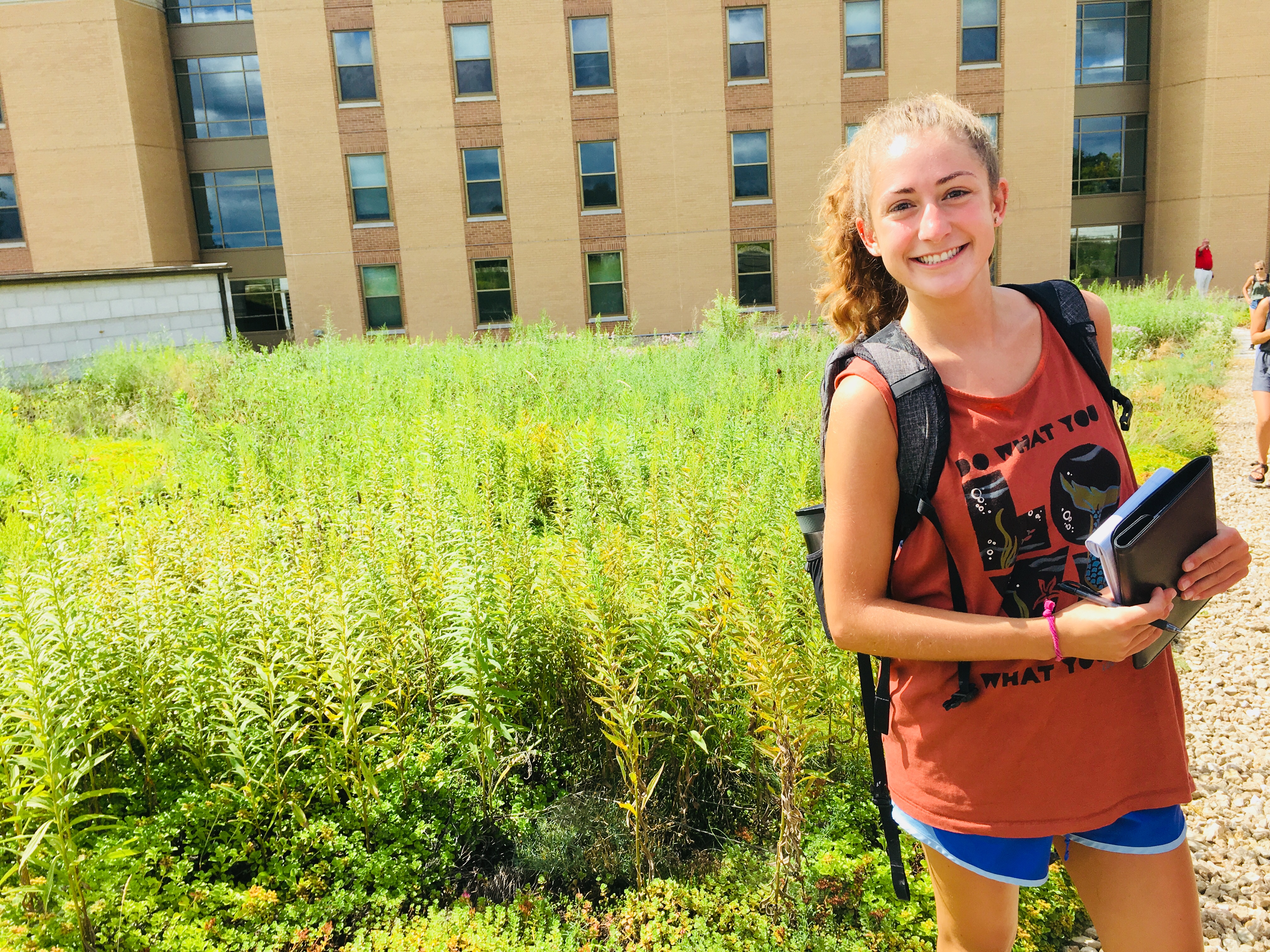 Jackie Olson is a sophomore majoring in landscape architecture and a future designer of sustainable architecture. She began her internship for the Office of Sustainability in summer 2018 as part of the Waste and Recycling Team, which provides education, tools, and resources to help campus groups improve their recycling and composting efforts.
UW-Madison is home to over 43,000 undergraduate and graduate students and 18,000 faculty and staff. Designing a campus for this many people is not an easy task, yet UW-Madison's Department of Campus Planning & Landscape Architecture (CPLA), within Facilities Planning & Management, has found a way to create spaces that instill "astounding first impressions and lasting memories for those who visit, work, educate, and learn at this institution." Earlier in the month, Gary Brown, the director of CPLA, and assistant campus planner Aaron Williams, met with the Office of Sustainability interns to talk about how the UW-Madison plans and designs our campus environment.
I was particularly excited for this walking tour because I am majoring in Landscape Architecture. It was an amazing experience to have UW-Madison's director of Campus Planning & Landscape Architecture explain various elements of the campus and demonstrate how my profession fits into the world all around me. I am now able to connect what I learn in my coursework to the physical plan of the University, making my appreciation for my charming campus grow.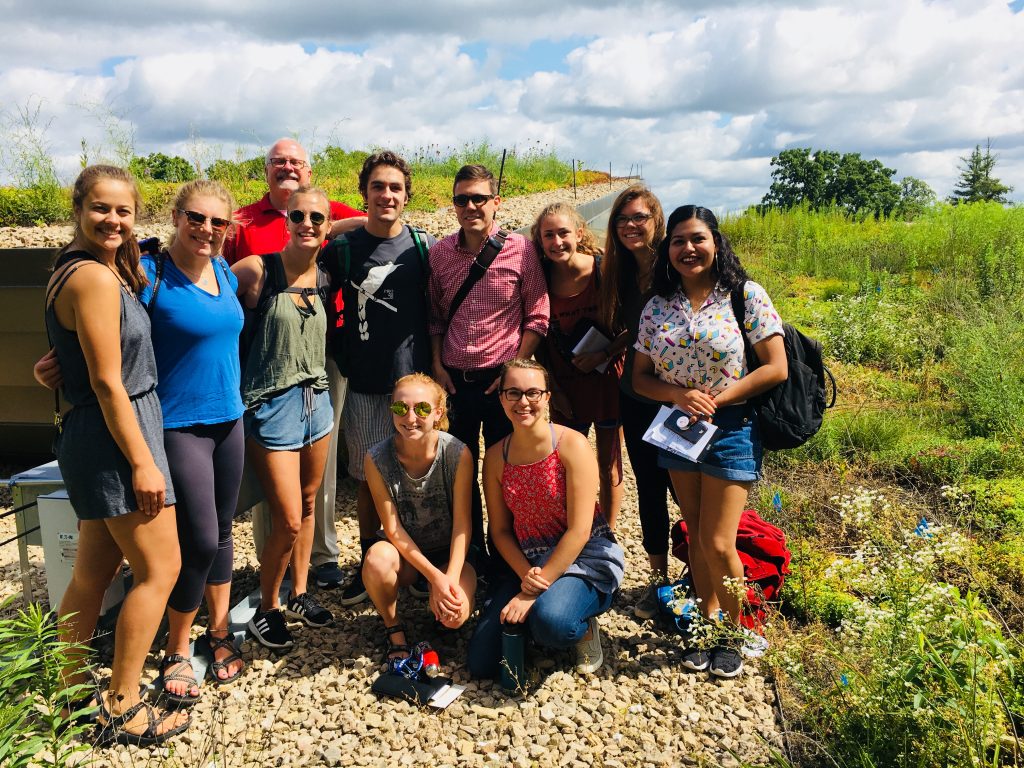 The 2015 Campus Master Plan and the Wisconsin Idea
Gary and Aaron started out by explaining the Campus Master Plan, which establishes the vision for the campus landscape at UW–Madison. The Campus Master Plan is updated every 10 years and serves as a framework for future development while remaining adaptive to various changes along the way.
Gary described the Campus Plan as a "road map" since it's used as a guideline for the physical development across campus. For example, if the University has a building they would like to construct, the Master Plan offers suggestions about where it should be located, how big that building should be on a site, and how to maximize its benefits, such as cost efficiency, aesthetic appeal, and positive ecological impact. Any building has an environmental cost, of course; as Gary put it, "The most sustainable building is the one you never have to build." Yet our campus clearly sometimes requires new buildings and must also rebuild older ones. So the University is working towards more sustainable buildings, such as the 12 LEED certified buildings currently on campus. In the words of the U.S. Green Building Council, "LEED provides a framework to create healthy, highly efficient and cost-saving green buildings. LEED certification is a globally recognized symbol of sustainability achievement."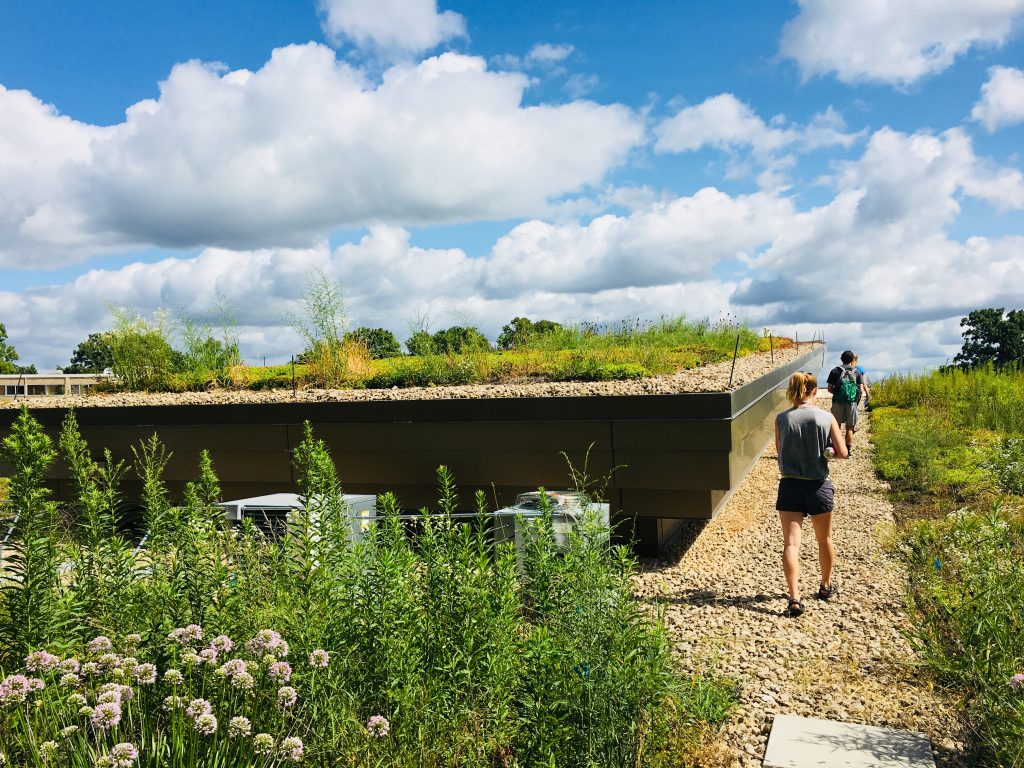 Balancing efficiency and beauty is an important component of CPLA's approach. CPLA stresses the need to break down the urban grid to create more open, green spaces on campus. These spaces help reduce stress and create a better environment for studying, working, and living on campus. As a student that loves the outdoors, I can attest to this. Part of what I love most about campus is the green spaces I pass every day on the way to class, such as the winding Lakeshore Path or the views from Bascom Hill.
CPLA is also involved with selecting locations for public art around campus. By showcasing local art that is open to everyone, UW-Madison fulfills part of the Wisconsin Idea. Indeed, public art invites the local community into the space of the campus and broadens our impact across the state.
As a further extension of the Wisconsin Idea, UW-Madison also wants to foster the culture of preserving nature in our campus community as well as in the rest of the state. The Lakeshore Nature Preserve, for example, "contributes to a powerful sense of place and fosters an ethic of stewardship to promote mutually beneficial relationships between humans and the rest of nature."  The Temin Lakeshore Path extends 4.3 miles along Lake Mendota all the way out past Picnic Point—one of my favorite spots to gather with friends, light a fire pit, and gaze upon the beautiful city skyline reflected on the water. Not only does this land serve the people of the community as a great gathering space, but it also preserves the ecological systems existing there. The Lakeshore Nature Preserve designates this land as natural land, not to be diminished by human activities. In our tour, we learned that this land is used as an outdoor lab on which over 80 research projects are currently being conducted, with many more to come in the future.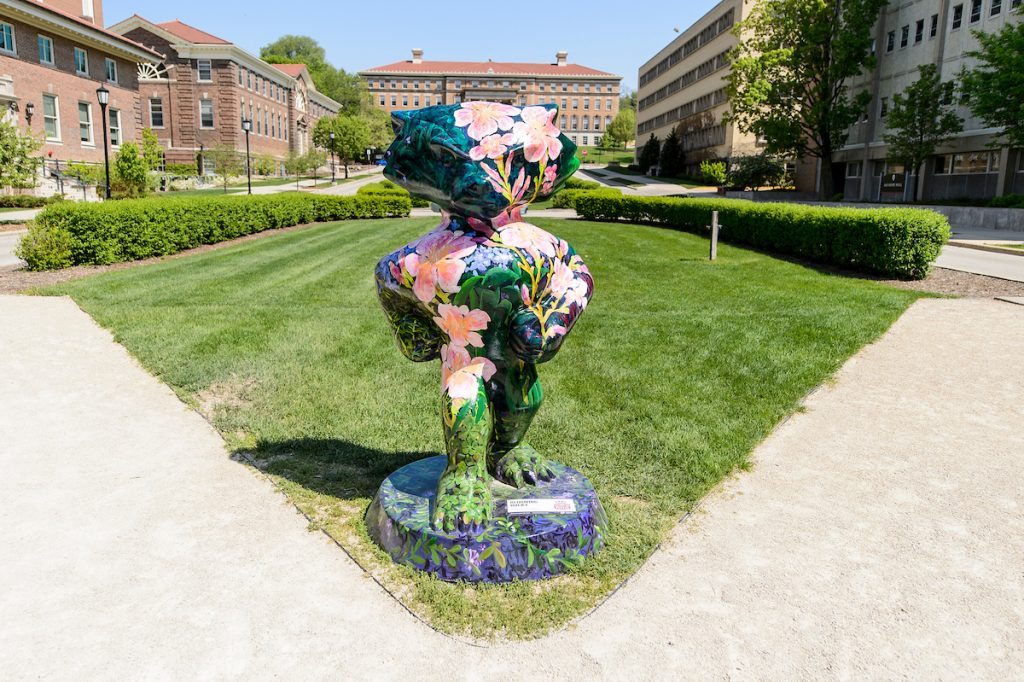 Besides the academic benefits the Lakeshore Nature Preserve serves, it also provides a space for campus members to get out and experience the outdoors. In my Landscape Architecture classes I have been taught that spending time in the outdoors has countless benefits for mental and physical health. This is one of the guiding principles of the profession and one of the many reasons we have pride in the work we do.
On our walking tour, we also visited a newer addition to the campus called Alumni Park, located between the Memorial Union Terrace and the Red Gym. There's a fountain located close to Langdon Street that appears to simulate the many ripples of Lake Mendota when someone throws a pebble into the lake. It serves as a metaphor: the ripple effect created on the fountain symbolizes the Wisconsin Idea on campus, or the notion that what we learn on this campus is meant to be applied to enrich the state and world around us. Alumni Park was also built to serve as an outdoor museum—as we walked along Alumni Way, we read excerpts about UW-Madison's history and the influential alumni that have graduated from our university.
Green Infrastructure & Stormwater Management
Campus Planning & Landscape Architecture strives to reduce the ecological footprint of the campus by implementing green infrastructure. Green infrastructure uses vegetation, soil, and natural hydrological features to manage water and provide environmental community benefits. For instance, one example of green infrastructure on campus is promoting low maintenance lawns and other regionally appropriate landscapes that only have to be mowed once or twice per year. The upkeep of lawns requires gas-powered machines, like lawn mowers, which release carbon into the environment. Reducing the amount of mowing with naturalistic landscapes in turn reduces carbon emissions produced on campus. Naturalistic, biodiverse landscapes also help to protect the ecosystems, habitats, and species within them.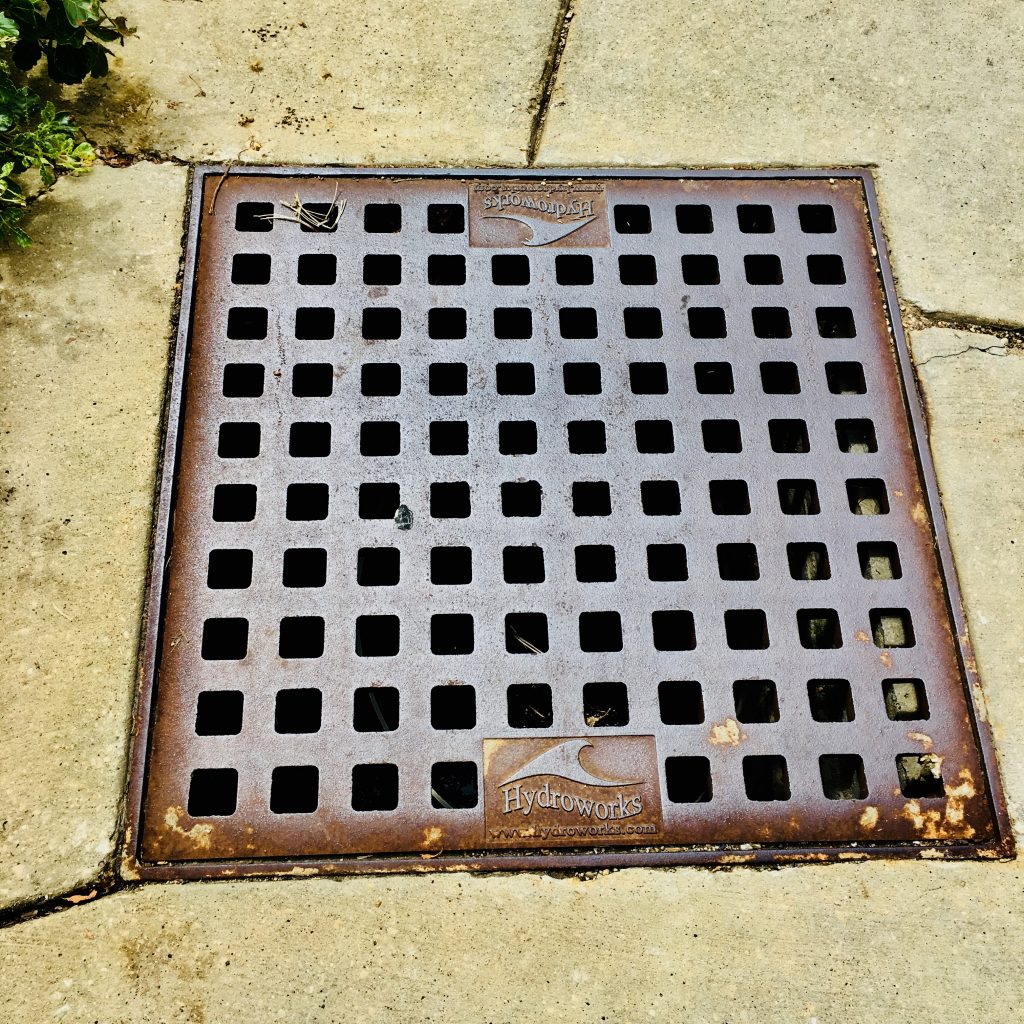 Gray infrastructure, meanwhile, is a human-made, single-purpose system that segregates and separates water, waste, food, transportation, and energy. On campus, gray infrastructure works to efficiently carry stormwater away from our built environment, whereas green infrastructure works to filter, collect and infiltrate the water where it lands. CPLA seeks to make these two systems work together efficiently. In fact, these interconnected systems "use or mimic natural processes to infiltrate, evapotranspirate, or reuse stormwater for the benefit of our campus community and environment."
Additional examples of green infrastructure practices on campus include rain gardens, in which the plants collect runoff and recharge groundwater (also called "bioretention"), and permeable pavement at Dejope Residence Hall, the School of Human Ecology, and other places. This pavement allows stormwater runoff to filter through the pavement into an underlying reservoir, where it is temporarily stored before it filters to the lake. CPLA also has proposed implementing ideas like "Green Streets" to collect stormwater. This concept promotes significant soil rooting volume for street trees and plants as well as offering sidewalk and street runoff infiltration. Healthier trees equate to an increased urban canopy, thereby reducing the urban heat island effect, reducing stormwater runoff, increasing wildlife habitat, providing shade for pedestrians, and "softening" the campus landscape.
The 14 green roofs on campus also help manage stormwater. Dejope's green roof, for instance, was one of my favorite stops on the tour: it's a stunning intensive green roof system designed to manage rainwater, provide habitat adjacent to the Lakeshore Nature Preserve, and look beautiful doing it. There is no public access to the roof, but residents can look out their window and see not a cold, bleak roof, but a lush, biodiverse green space!
On this tour I learned that everywhere I go on campus has been carefully planned out by many individuals as part of a broader set of goals for the University. Now when I walk around UW-Madison I can see and be conscious of how our many systems work together to create our beautiful landscape. As a student, I appreciate so much more the effort and care that UW-Madison's Campus Planning & Landscape Architecture staff have put into creating the engaging atmosphere of our school environment. My wish is for more members of our campus community to get outside and enjoy the lovely spaces designed just for us.