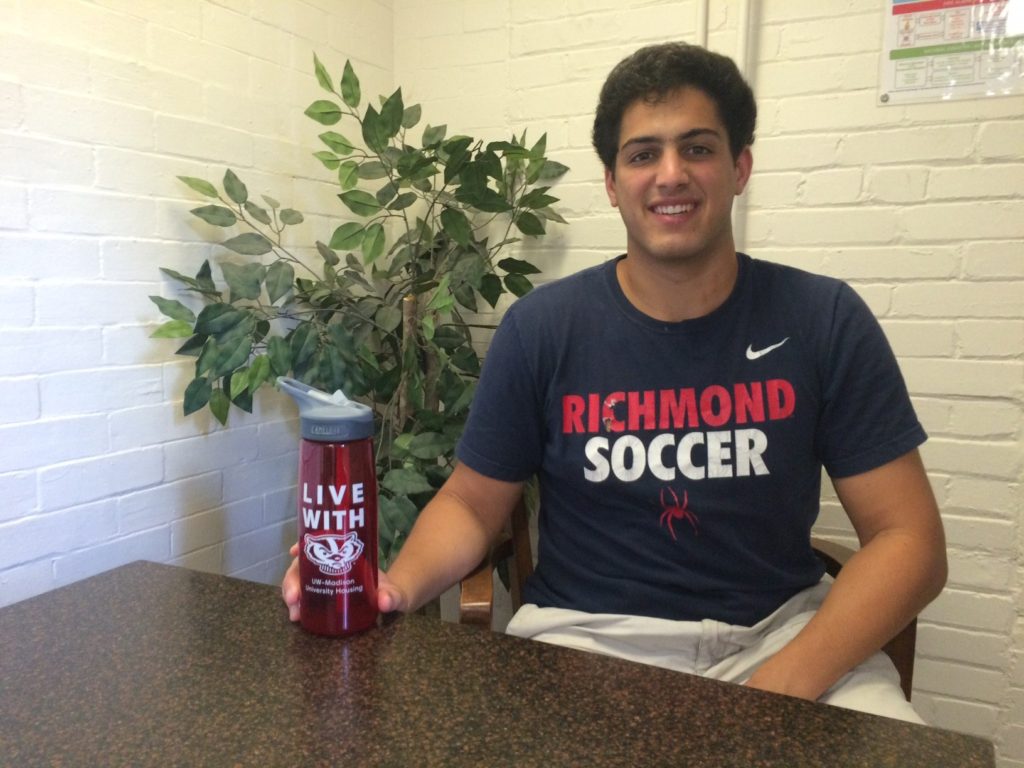 In Fall 2016, the Division of University Housing placed a Camelbak 750-ml refillable water bottle in the room of each incoming UW-Madison housing resident. Housing has nearly 7,500 student residents across 19 residence halls. Each bottle carried the imprint: "Badgers live sustainably. Rehydrate. Refill. Reuse. Reduce waste."
Breana Nehls, Residence Hall Facilities Sustainability and Communications Coordinator, reports that the Division of University Housing will give the refillable water bottle again for incoming residents in Fall 2017.
"The goal with the refillable water bottles is to show residents right from the start that Housing is committed to sustainability on campus. We want to welcome students by encouraging them to stay healthy and hydrated in a way that helps them understand the importance of reuse," Nehls explains.
Last year, Nehls joined staff and students in the Office of Sustainability to learn more about refillable water bottles. Did students use these bottles?  If so, for how long and for how often? And if not, what happened to these bottles?  In terms of energy, do refillable bottles compare well to bottled water? Is there a number of times a refillable water bottle should be used to "pay back" the energy required to produce the bottle?
Like any good research study, this generated more questions than could be answered.
Sam Grindel, a summer Welton Honors student researcher, is currently working with Professor Cathy Middlecamp of the Nelson Institute and her two doctoral students Tom Bryan and Tim Lindstrom, to continue research on the benefits and impacts of refillable water bottles.
One of Grindel's first tasks was to estimate the carbon footprint of the refillable water bottle, as well as that of Madison tap water and of commercial bottled water.  A carbon footprint is a way to estimate greenhouse gas emissions from an item or an activity.  Because carbon dioxide (CO2) is not the only greenhouse gas involved, the notation CO2e or carbon dioxide equivalent is usually used in order to represent all the greenhouse gases that contribute to the carbon footprint.
In consultation with Amy Barrilleaux from the Madison Water Utility, Grindel learned that Madison tap water has a surprisingly low carbon footprint of 0.28 grams CO2e per refill of the bottle.  In contrast, he estimated that a purchased plastic container of bottled water has a footprint of about 280 grams CO2e, or about a thousand times higher.
But a refillable water bottle is only a winner if used.  Not only does this reduce greenhouse gas emissions but also it reduces the number of single-use plastic bottles that may end up in the landfill, along a roadside, or in Lake Mendota, rather than being recycled.
How does the math look?  Compared to buying the same amount of bottled water, Grindel estimates that a campus water bottle would have a smaller carbon footprint if refilled just three times. Why?  Because carbon footprint of the 750-ml bottle is about 800 grams CO2e and bottled water (750-ml, plastic bottle) is about 280 grams CO2e.
The story does not end here.  Students need to continue using the refillable water bottle to reduce the impact.  Grindel estimates that refilling the water bottle twice daily, washing it weekly, would reduce greenhouse gas emissions by about 200 kilograms CO2e or about 450 pounds.
Grindel obtained this data by using life cycle assessment software called SimaPro, which modeled lifecycles for refillable and disposable models. Additionally, he researched literature from other water bottle studies to back up these numbers.
Grindel hopes to survey the UW-Madison student body to learn more about how students use, wash, and discard their water bottles. It seems likely that students obtain water on campus from the refilling stations.  A future line of research would be to estimate the carbon footprint of water from these stations and use this data as a basis of comparison.