During the 8-day spring move-out period, volunteers helped divert nearly 96,000 pounds of clothing, carpets, furniture, electronics, and other unwanted items from landfills, according to a University Housing press release.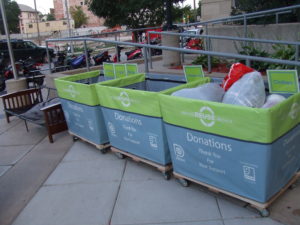 This year, community partners including Goodwill and the St. Vincent de Paul Society accepted additional items such as small electronics, mattresses and damaged furniture, according to Laura Shere, University Housing program manager for sustainable grants/funding.
The program saw a 29 percent increase in the amount recycled last year, according to the release. With the addition of mattresses and damaged furniture to the program this year, an additional 10 tons of recyclables was diverted from landfills.
Shere said support from student organizations, such as We Conserve and the Office of Sustainability, and student volunteers was a large part of the program's success.
According to Shere, more than 100 volunteers from across campus participated in the program, logging over 300 hours during the moving period.
"We've been trying to bolster our volunteerism over the course of the last few years, and this year, we hit the jackpot," Shere said.
Volunteers directed people to recycling stations, answered questions, organized donated items and even sorted through trash, Shere said.
UW–Madison sophomore Aaron Conradt took 11 shifts during move-out, and when he didn't have anything to do, he spent time sorting trash and collecting items to compost.
"I felt like it was really important to do," Conradt said. "It was my first time being on campus during move-out. I wanted to make a difference."
Shere also said support from faculty helped make it easier for students to participate in the event even though it was during a very busy time for many students.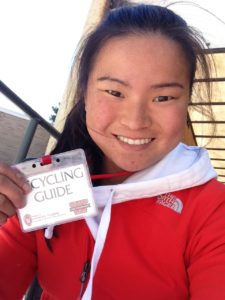 UW–Madison Environmental Studies Professor Cathy Middlecamp integrated participation in the move-out recycling program into her Environmental Studies 126 class as one of three activities students could do as part of their final exam.
According to Middlecamp, her students spent a lot of time discussing food, energy, and sustainability, but she wanted them to get involved in those topics, and the move-out recycling fit well with the course's themes.
"I just wanted them out doing something that was in essence, giving back, contributing," Middlecamp said.
Although many students participated as part of a class or for course credit, Shere said 40 percent of the volunteers participated simply because they wanted to help.
Shere said she noticed the students were very engaged and passionate about recycling and mindful consumption, which she said was "inspiring."
"It was just really cool to watch young people be that excited about something and know the impact their excitement would have on changing how we take care of the Earth," Shere said.
By Sarah Olson, Office of Sustainability