Sustainable electricity production, local food vending and carbonated beverages were the sustainability research topics students presented to an audience of more than 25 students, faculty and staff at the first-ever Sustainability Lunch HOUR (Highlight of Undergraduate Research) last month.
The event, sponsored by the University of Wisconsin-Madison Office of Sustainability, is an undergraduate research brownbag where students conducting sustainability-related research can present their work and discuss it with fellow researchers and members of the campus community.
UW-Madison junior Tyler Slade, who does research for the UW-Madison chemistry department, presented his work on sustainable nanosilicides. Slade works with UW-Madison chemistry professor Song Jin and postdoctoral fellow Steven Girard.
Silicides are compounds containing silicon and a metal, and certain silicides have a wide range of applications in green technology, according to Slade.
Slade's research focuses on making higher manganese silicides (HMS), which have potential use as a thermoelectric material that converts heat to electricity.
_____
Attend the next Sustainability Lunch HOUR!
Friday, March 28, 2014
12-1 p.m., Room 140 Science Hall
_____
HMS aren't currently used as thermoelectrics because they are expensive and resource-intensive to make, Slade said, and existing processes yield only a small amount of product.
But Slade's team has developed a more sustainable process to produce theses silicides using magnesium, which makes more product with less time and energy. For example, the molten salt they use as a solvent reduces the required reaction temperature by more than 1000 degrees Celsuis compared to the current method used to create magnesium silicides.
"It's really cool," Slade said. "The lower the temperature is, of course, the lower the energy and therefore, more sustainable."
Following Slade's presentation, a group of students from a Nelson Institute for Environmental Studies capstone course shared findings of a community-based research project where members explored how to draw more vendors to the South Madison Farmers Market.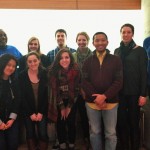 The group, comprised of Jasmine Badredine, Alex Schwartz, Maikou Vang, Molly Gallagher, Wally Graeber and Bridget Callaghan, drafted a list of questions and invited vendors from four different farmers markets in Dane County to participate in two different focus group sessions. Group members then analyzed the answers to make recommendations for attracting more interest to South Madison.
"We thought it would be the best way to produce immediate change in the area," Badredine said.
Economic incentive was a primary factor motivating vendors to participate in the market, according to the group, but relationships with customers and a sense of community were also important.
Based on their research, the group recommended increasing marketing and social media to promote the South Madison Farmers Market, clarifying the time and place of the market, and improving the market's amenities and atmosphere.
At the end of the hour, UW-Madison sophomore Aaron Conradt and junior Nick Anderson described a product prototype called the Biocube, a cube-shaped tablet that would naturally carbonate and flavor a glass or bottle of water.
The Biocube would reduce the amount of disposable plastic bottle waste and reduce transportation costs, according to Conradt.
"Americans throw away 2.5 billion plastic bottles every hour, and that's just a substantial number," Conradt said. "To cut that down to nothing would be huge."
The project is still in its "idea phase," according to Conradt and Anderson. The group submitted their work to the Agricultural Innovation Prize competition, a national contest challenging student teams to develop innovative ways to address agricultural challenges, but did not advance to the second round of judging.
Anderson said the biggest challenge is carbonation. They are currently planning further research, gaining some inspiration from effervescent tablets.
"We may not be able to match the exact carbonation of say a Pepsi or Coke, but if we can get something comparable in terms of the fizziness and taste, it would still be a major improvement," Anderson said.
Conradt said they hope the product would be about one-third of the cost of a single bottle of soda, and its packaging would be biodegradable and include an indication of the environmental impact.
"It's a modernization of the beverage industry for sure," Conradt said.  "You're going to get an awareness of your environmental impact as well as a healthier alternative… and then it's also going to be a cheaper alternative."
The next Sustainability Lunch HOUR will take place Friday, March 28 at 12 p.m. in Room 140 of Science Hall.
By Sarah Olson, Office of Sustainability