July 28, 2015 | by Maija Inveiss
After three years of dedication to making our campus greener, intern Miles Tryon-Petith is bidding "Auf Wiedersehen" to the UW–Madison Office of Sustainability.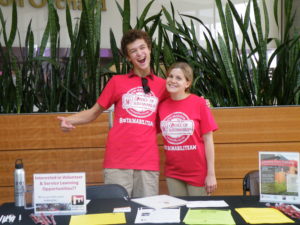 As a top-notch trash auditor, pro-recycler, and overall hard worker, Tryon-Petith will be missed as he heads abroad to Freiburg, Germany, for an international sustainability work experience.
Tryon-Petith, a rising senior, has worked for the office nearly as long as it has existed. Before starting his freshman year at the university, he met with former Office of Sustainability co-director Craig Benson to discuss sustainability initiatives at UW–Madison. When he arrived on campus, he interviewed for the office's internship program with only a rough idea of what to expect.
He joined the office's operations team to work on waste management, recycling, aquaponics, and composting projects. His involvement with waste initiatives on campus developed an almost fanatical enthusiasm for all things trash-related.
"At first my interest for it was very topical. There were these bins and the right stuff needs to go in the right bins," Tryon-Petith says. "As I dove into those bins, I found out there is a whole world in there."
One of his largest projects was the ABCs of Waste, a multi-pronged initiative to study campus waste streams and improve recycling in academic buildings. In 2014, Tryon-Petith led the office in auditing waste from 15 academic buildings, an effort that found that 23 percent of the trash was actually recyclable materials.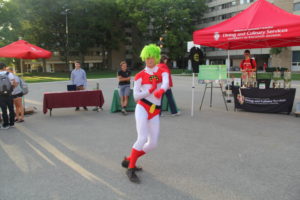 Throughout all of his projects at the office, Tryon-Petith learned about his deep passion for not only reducing waste, but connecting and communicating with other people. As a result, he has developed a large network of students, staff, faculty, and community members.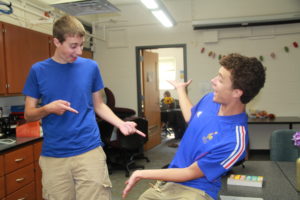 "Miles is one of those rare people who can walk into a room and know everyone from the keynote speaker to the bartender," says Jill Sakai, who directs communications for the office.
Tryon-Petith reflects on the Office of Sustainability internship program as an environment conducive to personal growth and development. With students majoring in fields from environmental studies to geological engineering to community and environmental sociology to journalism, he describes it as a space where everyone can develop their own interests into skills while working together to create a more sustainable campus and university.
"Building a community around sustainability is the only way you are going to accomplish any long-lasting change that has a great benefit," he says.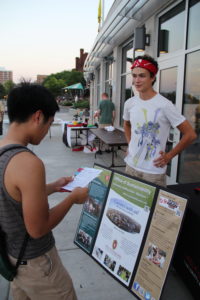 Cathy Middlecamp, the interim director of the Office of Sustainability, says Miles views the Office of Sustainability as "a connector."  The office is a way for students to meet with faculty and staff while gaining leadership experience.
"During his time working with us as an intern, he reached out to others and was a connector par excellence.  Absolutely the best!" Middlecamp says.
In August, Tryon-Petith will help with the "Global Health Experience" course, Green Summer Freiburg. Afterward, he will stay abroad to work for the city of Freiburg, widely regarded as the most sustainable city in Germany, on international affairs and developing sustainability best practices across the world.
"I hope that sustainability isn't a career pathway but much more a state of mind, a worldview that becomes absolutely predominant in our society," Tryon-Petith says.
The Office of Sustainability joins many others on campus in wishing Miles success and joy in all of his future endeavors!