by Jill Sakai
University of Wisconsin–Madison junior Colin Higgins has been selected as a 2014 Udall Scholar.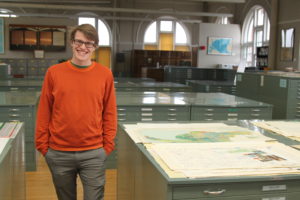 Higgins is one of just 50 students nationwide to win the 2014 Udall Scholarship, which recognizes rising college juniors and seniors who have demonstrated a commitment to careers related to the environment, Native American health care, or tribal public policy.
He was surprised with the news Friday during an in-class visit by a group including Nelson Institute for Environmental Studies undergraduate advising coordinator Becky Ryan and professor Cathy Middlecamp, Julie Stubbs from the Undergraduate Academic Awards office, and Dean of Students Lori Berquam. As the only undergraduate in the seminar class, Higgins says, "I immediately knew they must be there to see me."
The junior from Middleton, Wis., is triple-majoring in geography, history, and environmental studies and plans to pursue an academic career studying the intersection of ecology, public policy and economic justice.
"I'm interested in the ways people live in and interact with the world and how to improve those interactions, especially in an era of massive economic and looming environmental crises," Higgins says. "Our generation is being tasked – implicitly or explicitly – with finding a way to maintain a thriving society within it, which necessitates social and environmental solutions."
During his three years at UW–Madison, Higgins has enhanced student awareness and engagement in environmental and sustainability issues both on and off campus. As a sophomore, he founded and chaired the Associated Students of Madison Sustainability Committee. He is currently Student Leader of the UW–Madison Office of Sustainability, through which he runs the student Sustainability Council and advises on campus sustainability research, education, and operations.
He has also worked with the F.H. King Students for Sustainable Agriculture and the Middleton non-profit Growing Food and Sustainability and is conducting research in the geography department on the valuation of ecosystem services such as biodiversity.
"I've had the privilege of knowing Colin both as a student and as a leader in campus sustainability operations. With his keen intellect and his ability to mobilize people to work together, he's a perfect fit for this award," says Middlecamp, who helped nominate Higgins.
The scholarship is awarded by the Udall Foundation in honor of former U.S. Reps. Morris K. and Stewart L. Udall, supporting students who have demonstrated outstanding potential and a commitment to pursuing environmental careers. Higgins will receive $5,000 toward tuition and other educational expenses during his senior year. He will also attend a weeklong retreat this summer in Tucson, Ariz., to network with the other 2014 Udall scholars and learn about environmental and tribal policy.
Image credit: Nelson Institute for Environmental Studies