The Office of Sustainability would like to invite the campus community to celebrate Campus Sustainability Day Wednesday, October 23.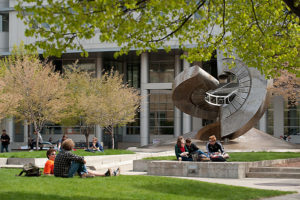 The Association for the Advancement of Sustainability in Higher Education (AASHE) helps to coordinate Campus Sustainability Day across the nation, which is a time to celebrate sustainability in higher education.
The University of Wisconsin-Madison's Campus Sustainability will focus on three goals in campus sustainability: research, involvement and academics.
Kickoff – Meet the Director of Sustainability Research and Education
Refreshments will be served
11:00 a.m., Union South, Agriculture Room, 3rd Floor
Learn how campus is engaging research and academics in sustainability from Sustainability Research and Education Director Craig Benson.
Get involved in Sustainability – Lunch at Slow Food and Meet the Sustainability Council
11:30 a.m.-2:00 p.m. The Crossing, 1127 University Ave.
Eat a good, clean and fair lunch from Slow Food UW Cafe and learn more about how to get involved with the student organizations of the Sustainability Council.
Sustainability Academics Information Session
2:00 p.m.-3:00 p.m. Union South, Agriculture Room, 3rd Floor
Interested in how to incorporate sustainability into your academic career? Advisers and faculty from departments across campus will explain how they relate sustainability to their programs.
ALL EVENTS ARE OPEN TO THE PUBLIC
For more information, contact Sabrina Bradshaw.