By Scott Hennelly
UW–Madison is well-known for its beautiful landscapes, from the tall oaks lining Bascom Hill to Lakeshore Path running along Lake Mendota.
But how do they taste?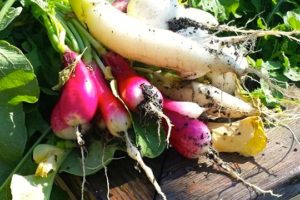 UW–Madison sophomore Aida Ebrahimi is one of a group of students answering that question with Edible Landscapes, a new project seeking to grow edible plants in campus green spaces.
Ebrahimi first thought about the campus gardens during an internship with the Associated Students of Madison Sustainability Committee last spring. Realizing it could be a big project, she reached out to student organizations and other groups to find partners to help bring the idea to life.
"I wanted to do something with community gardens and I heard Aaron Conradt from ReThink Wisconsin and Tom Boyden from F. H. King [Students for Sustainable Agriculture] were working on a similar project but with raised beds. And they called it Edible Landscapes," Ebrahimi says. "We all knew each other and were all working on similar projects so we decided to do it together."
Working with University Housing, the students identified promising sites in campus green areas near residence halls. They repurposed garden boxes from the Pyle Center and arranged for soil and compost from the West Madison Agricultural Research Station. Facilities, Planning and Management assisted the team with preparing and filling the garden beds.
By the start of the fall semester, six Edible Landscapes were in place outside several residence halls including Cole, Sellery and Smith. This season, they grew a variety of vegetables and herbs such as carrots, beans, lettuce, kale, beets, radishes, bok choy, basil and parsley. Anyone is welcome to visit the gardens and harvest the produce. A few hardy veggies may remain as the growing season draws to a close.
But the goal of Edible Landscapes goes beyond just providing an afternoon snack.
"The main goal is to make students aware of the whole food system—the source of it, how it's grown, how to garden, and how to take care of it," Ebrahimi says. "Right now a lot of students are eating ready-made mac-n-cheese or frozen food. We want to make sure they know the whole process and how much energy and effort you need to put into these plants."
To raise awareness, Ebrahimi hopes to place educational signs next to the beds to inform students about the project. She also wants to include tips on how to pick and care for the plants.
Ebrahimi says she would like to expand to involve more students in the use and maintenance of these landscapes in the future. After all, it was students who planted the idea of Edible Landscapes in the first place.
"This project is student-based—the idea came from the students, there are students working on it, and it is free for students to use. So I do encourage everyone to check them out and pick as many vegetables as they want because this is for them," Ebrahimi says.
Find more information about the Edible Landscapes project on its Facebook page.