Project Summary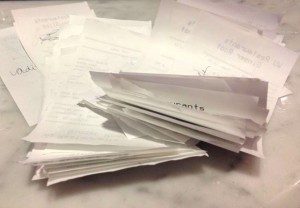 "Do you want a receipt?" This common question, once asked at nearly every cash register on campus, usually was followed by the paper being tossed in the garbage. Through a multi-faceted partnership, mandatory receipt printing was eliminated for the majority of transactions at campus dining centers and restaurants in fall 2015. In the first seven months of implementation, the Wisconsin Union reduced receipt paper usage by 37 percent and Dining and Culinary Services by 93 percent.
Project Timeline
Development from 2013-2015; implementation is ongoing.
Project Partners
Office of Sustainability
University Housing Dining and Culinary Services
Wisconsin Union
Associated Students of Madison
Garage Physics
Project Description
BACKGROUND
In the past, paper cash register receipts were accepted as a standard business practice and expense. Paper receipts served as an important record between the service provider and customer, useful in providing proof-of-purchase and in settling disputes. At UW–Madison, receipts for Wiscard transactions also indicate account balances.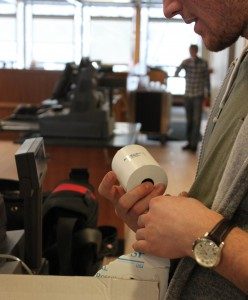 More recently, however, both the technology and the customer expectations have changed. More and more business is being conducted electronically, Wiscard transaction records are now available online, and today's campus consumers – especially students – generally are comfortable managing finances digitally. In addition, sustainability and the responsible use of resources have emerged as areas of importance for the campus as a whole. Consider, for example, this statement on resource stewardship in our UW–Madison strategic vision: "Promote environmental sustainability through our own campus operations, integrated with research and education."
In 2013, University Housing's Dining and Culinary Services logged an estimated 4.4 million register transactions and the Wisconsin Union more than 3 million. At that time, cash registers for both entities were set to automatically print paper receipts for every transaction. Based on an average receipt length of six inches, these transactions would generate 550 miles of receipts annually for Dining and Culinary Services and 275 miles of receipts annually for the Wisconsin Union, costing tens of thousands of dollars each year in receipt paper alone.
In this environment, paper receipts represent an often unnecessary – and sometimes actively unwanted – use of resources. Many customers refuse their receipts, which pile up in messy heaps around registers or blow off customer trays to become unsightly litter. Some receipt paper contains bisphenol A (BPA), a chemical linked to possible endocrine disruption,2 making excessive receipt production a public health issue as well for employees and customers alike.
BASELINE
Initial efforts to address campus receipts were triggered by concerns voiced in 2013 to staff at the Wisconsin Union and the Office of Sustainability. UW–Madison physics professor Duncan Carlsmith expressed frustration at the unwanted receipts he saw printed and discarded at campus cafés. He connected with undergraduate Rachel Feil, who started the receipt reduction project while a student intern with the Office of Sustainability. Rachel also engaged fellow student Kyla Kaplan, who as chair of the Associated Students of Madison (ASM) Sustainability Committee had herself noted the abundance of unneeded receipts as a campus concern.
Together Rachel and Kyla reached out to several campus receipt-producing entities, including Dining and Culinary Services, the Wisconsin Union, DoIT, Transportation Services, and the Babcock Dairy Store to learn about each organization's paper use and customer needs, identify current practices, and offer initial paper-reduction strategies where appropriate.
Rachel developed her receipt research in a senior capstone project for a section of Environmental Studies 600 on campus food-related waste, taught by Holly Gibbs and Tyler Lark. Charged with creating a project around an actual sustainability issue on campus, Rachel, Ben Stansbury-O'Donnell and Chris Taylor (all 2014 graduates) researched and produced a "Receipt Reduction Guide" with information and recommendations for campus units interested in reducing paper use.
The baseline data on transaction volume and receipt production clearly highlighted the value of a coordinated project addressing campus receipts. The Union and Dining and Culinary Services represented ideal target units due to their large transaction volumes and interest in receipt reduction as a potential opportunity to better serve their customers and provide a campus learning experience outside the classroom.
PILOT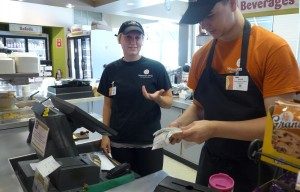 To collect customer-specific data, Rachel and Kyla worked with Housing and Dining and Culinary Services staff to assess student views on receipts through a survey distributed through ASM in April 2014. The survey garnered the highest response rate of any ASM survey that year, indicating a high degree of student interest in the issue. Of 3,018 respondents, 87% represented University Housing's primary target audience of students who made a purchase at a Dining and Culinary Services facility within the prior year. Of the respondents, 62% indicated a preference for optional receipts, 35% wanted no receipts printed at all, and just 3% supported mandatory printing of paper receipts. In addition, 90 percent of survey respondents who indicated that they used their receipt to check remaining account balance said that checking balances online or at the register without a receipt was acceptable.
In addition to the online survey, the capstone student team and ASM members held outreach events at Union South to directly engage customers, gain insights into consumer preference, and assess support for reduced receipt printing. During these efforts, the team collected over 180 signatures and discarded receipts to demonstrate customer support for an optional receipt program.
Based on the student outreach efforts and ASM/Office of Sustainability survey responses, Dining and Culinary Services launched a pilot "receipt-optional" program in Newell Smith Hall in fall semester 2014 to evaluate feasibility, address anticipated challenges, and assess customer responses. The rollout required adjusting the register settings to no longer print receipts automatically and training student employees to print receipts only for customers who requested one for standard cash and Wiscard transactions. For record-keeping purposes, receipts were still printed for purchases made with credit cards or coupons. The results of the pilot confirmed the feasibility of making printed receipts optional. Housing staff did not encounter any large problems and were able to work out small issues that arose.
After the successful pilot, Dining and Culinary Services extended these changes to all of their campus facilities in late summer 2015. The Wisconsin Union similarly implemented optional receipts at nearly all of its campus restaurants, markets and cafes early in the fall 2015 semester.
OUTCOMES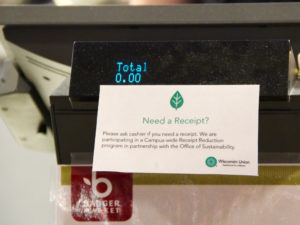 These combined efforts have resulted in policy changes in both Dining and Culinary Services and the Wisconsin Union. The registers in all Dining and Culinary Services facilities are now receipt-optional for standard transactions (cash and Wiscard). Printed receipts are generated only for transactions made using a credit/debit card or coupon, or upon customer request. The same is true at the majority of the Wisconsin Union restaurants, markets and cafés, with exceptions made for locations that use paper receipts to track food items through production to delivery to the customer (such as Harvest Grains and Prairie Fire).
The Wisconsin Union has also promoted the receipt reduction measures to customers with prominent signs on registers at participating locations. These signs increase public awareness of both the project and the Union's dedication to sustainability.
In the first seven months of implementation, the Wisconsin Union reduced receipt paper usage at its restaurants, markets and cafés by 37 percent compared to the same time period the previous year (47 cases vs. 75 cases), for a cost savings of more than $1,200. Dining and Culinary Services cut its receipt paper purchases by 93 percent compared to the same time period the previous year (15 cases vs. 220 cases), for a cost savings of more than $9,000.
The Campus Receipt Reduction project team was awarded a UW–Madison Administrative Improvement Award in 2016 for their efforts to reduce resource use, increase efficiency, and improve customer service.