Project summary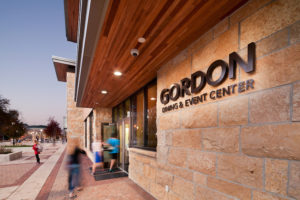 Much of the waste produced by food service operations is recyclable or compostable. However, misunderstandings about which materials can be recycled or composted and how to do so properly are common among both employees and customers. This can lead to a large amount of contamination in food service waste streams.
The Office of Sustainability worked with Dining and Culinary Services staff at Gordon Dining and Event Center to assess their waste streams and recommend process improvements.
Project partners
Office of Sustainability: Brenna George, Rita Kawak
Housing Dining and Culinary Services: Greg Heintz
Project timeline
Spring 2017
Project status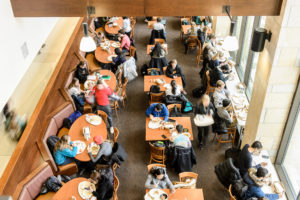 BACK-OF-HOUSE WASTE ASSESSMENTS

In February 2017, Office of Sustainability student staff conducted a waste audit in Gordon Dining and Event Center to determine baseline contamination levels. This initial evaluation examined both trash and recycling from the back-of-house food preparation areas. The pre-consumer waste audits found:
7% of the trash was recyclable
49% of the trash was compostable
28% of the recycling should have been in the trash
Contamination of recycling with trash causes many otherwise recyclable items to be sent to the landfill. Items that were incorrectly placed in the recycling included thin plastics (such as plastic wrap and bags), dirty foil, jars and other items with large amounts of food residue, and items composed of more than one material (such as plastic trays containing a non-recyclable absorbent gel).
Contamination of trash with recyclable and compostable items sends valuable materials to the landfill, where they will produce methane and other greenhouse gases. This contamination also increases the weight of trash being sent to the landfill, which incurs a landfill tipping fee of $45/ton.
PROCESS IMPROVEMENTS

Following the initial audit, the project partners created signs for the food preparation areas with pictures to aid correct sorting of waste items. They also engaged food service employees in the project via short employee training sessions known as "huddles." In these sessions, Office of Sustainability students talked about the importance of separating waste, presented audit results, showed the most commonly mis-sorted items, and answered employee questions.
A follow-up trash audit in March revealed much lower contamination rates:
2% of the trash was recyclable
4% of the trash was compostable
7.5% of the recycling should have been in the trash
The efforts in Gordon Dining and Event Center are also shifting to the front-of-house area where customers dispose of their items. The trash and recycling bins in the dining area have been covered; instead, customers are now asked to put all of their waste on the tray return conveyor belt so that employees can sort it correctly. Gordon has a pulping machine that can break down post-consumer compostable materials such as paperboard takeout containers and food leftovers. This effort is increasing the amount of material that can be diverted to post-consumer composting. This practice also reduces accidental disposal of reusable dishware and utensils.
Next steps in this project are ongoing regular waste audits and integration of waste handling practices into standard employee training at Gordon Dining. Additional back-of-house signage is in development to track progress reducing contamination rates and highlight needed areas of improvement. The program is also working toward expanding to other campus dining halls and catering operations.