Project summary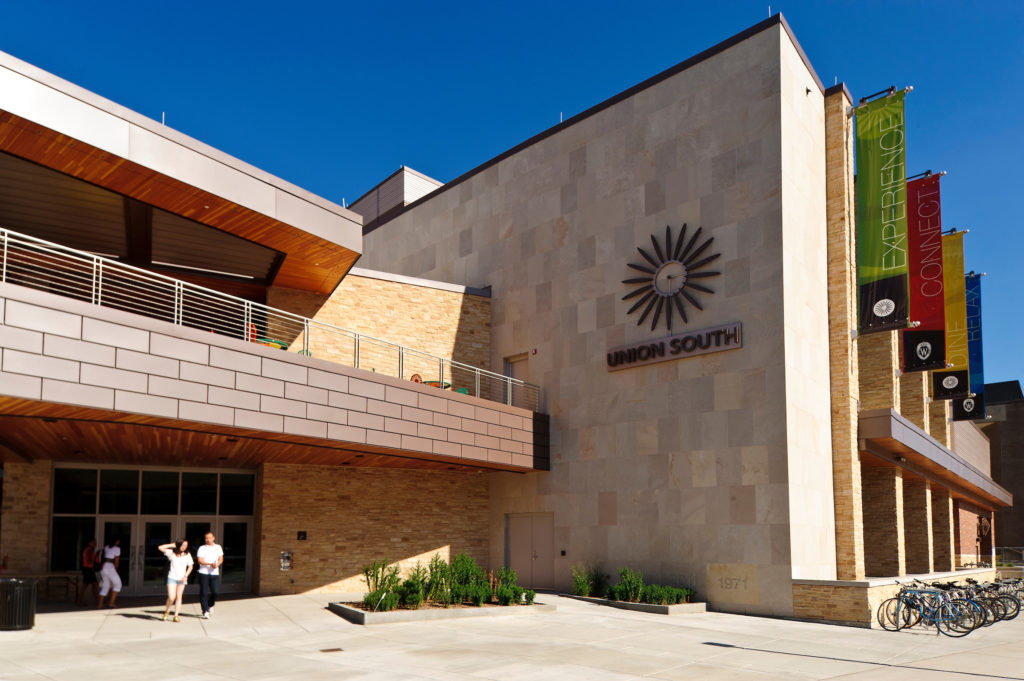 The collection bins for recycling and compost in Union South are frequently misused, resulting in contaminated waste streams that may end up in the landfill. This project assessed employee and customer knowledge about how to sort recyclable and compostable items in Union South, the existing levels of contamination and the downstream impacts of improper sorting.
One target outcome of this project was to create training and marketing materials to change social norms, improve recycling and compost and reduce contamination in the waste streams.
Project timeline
June – August 2016
Project partners
Office of Sustainability: Rita Kawak
Union South Dining Services: Carl Korz, Lisa Wadzinske
Wisconsin Union Marketing: Meghan Roberts, Stephanie Webendorfer
Purchasing: Dave Brinkmeier
Waste Management: Betsy Hartje
Project status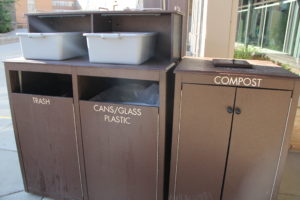 KNOWLEDGE AND BEHAVIOR
A combination of interviews and behavioral observation revealed that lack of knowledge about recycling and compost and the incorrect usage of the provided collection bins are significant issues in Union South. This is true among both consumers and Union workers.
Behavioral observations focused on how consumers and student employees disposed of items when multiple types of  waste and recycling bins are present. A large number of Union South consumers appeared to discard items quickly and in the bin in closest proximity to them, suggesting they gave little to no thought to sorting their waste. During approximately 10 hours over the course of a week, this behavior was seen among 48% of the college-aged consumers (those estimated to be 18 to 22 years of age), 78% of the graduate student-aged consumers (estimated to be 23 to 28 years of age) and 71% of post-college-aged consumers (judged to be older than 28 years).
Workers in food prep areas displayed a high degree of enthusiasm for waste sorting but also a great deal of misinformation and misunderstanding, particularly related to what materials can be composted.
In interviews, however, many student workers and consumers reported being good at recycling and/or composting, indicating that they believe they are using the provided bins properly. These interviews revealed likely disparities between self-reported knowledge and correct use of the bins.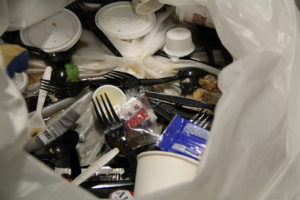 TRASH AUDITS
Audits of trash, recycling and compost highlighted several problem items that were frequently missorted. The problem categories were generally the same for both consumers and workers and included food, thin plastics, napkins, coffee cups and to-go boxes. Food, napkins and paper to-go boxes are all compostable but were often found in the trash, which further emphasizes a lack of knowledge about composting.
To address the identified issues, we created two five minute short training scripts for student workers about correct recycling and composting behavior. The Wisconsin Union marketing team started to integrate sustainability into ongoing social media efforts to establish sustainability as a social norm. We also developed preliminary plans for additional signage, information tabling, shadow boxes, or labeling of items to clarify whether they are recyclable or compostable and how they should be disposed properly.
WASTE RESOURCE DEVELOPMENT
This project also included consultation with the haulers that handle waste and recycling contracts for the Union and campus. With this information, we are compiling a comprehensive waste and recycling resource for campus. This will address what items can be recycled, how clean it needs to be, and how it  should be collected to maximize its value.