What does environmental injustice mean, and how does it manifest in Madison? How does one create an activist campaign to address climate change? Let's say you tear your favorite jeans—how do you stitch them up and avoid sending them to the landfill? Or say you're a new student at UW-Madison—how do you get involved in environment- and sustainability-related student organizations?
From April 15-21—the week leading up to Earth Day—students and staff from an array of organizations and offices hosted Earth Week events that addressed these questions and many more. From Hoofers' EcoFair,  ASM's Campus-Wide Clothing Swap, and WUD Film's screening of Wasted! The Journey of Food Waste (which featured several other organizations), to a Family Dinner Night with Slow Food UW and a Sustainable Menstruation Workshop co-sponsored by the Office of Sustainability, Campus Women's Center, and the Gamma Mu Chapter of Lambda Theta Alpha Latin Sorority, Inc., Earth Week covered a wide range of topics embedded in the concept of sustainability.
The Office of Sustainability (OS) built on last year's successful Earth Week programming to bring together over 20 partners for a total of 15 events (which did not include other sustainability-related events happening concurrently on campus). Earth Week also happened to fall during WASB's All Campus Party—a happy coincidence that resulted in the OS participating in Breakfast with Bucky, Day of Service, and Chalk the Block. At Breakfast with Bucky, OS interns helped to clean the waste stream as WASB volunteers handed out hundreds of breakfast items to passersby; at Chalk the Block, participants were invited to paint a flower pot and plant organic herb seeds.
Hoofers, the Wisconsin Union-based outdoors club, hosted a lively EcoFair on Saturday of Earth Week. David O'Keefe, outgoing president of Hoofers, has made it his mission to enhance sustainability initiatives at the Union. O'Keefe noted that "As the outdoor recreation club at the University of Wisconsin – Madison, Hoofers has long been an integral part of environmental community. We joined … Earth Week so that we could create relationships with other campus organizations. The Earth is everyone's, [and] by joining a larger campus wide movement we can amplify our voices to the greater community regarding our love for nature and the importance of sustainability."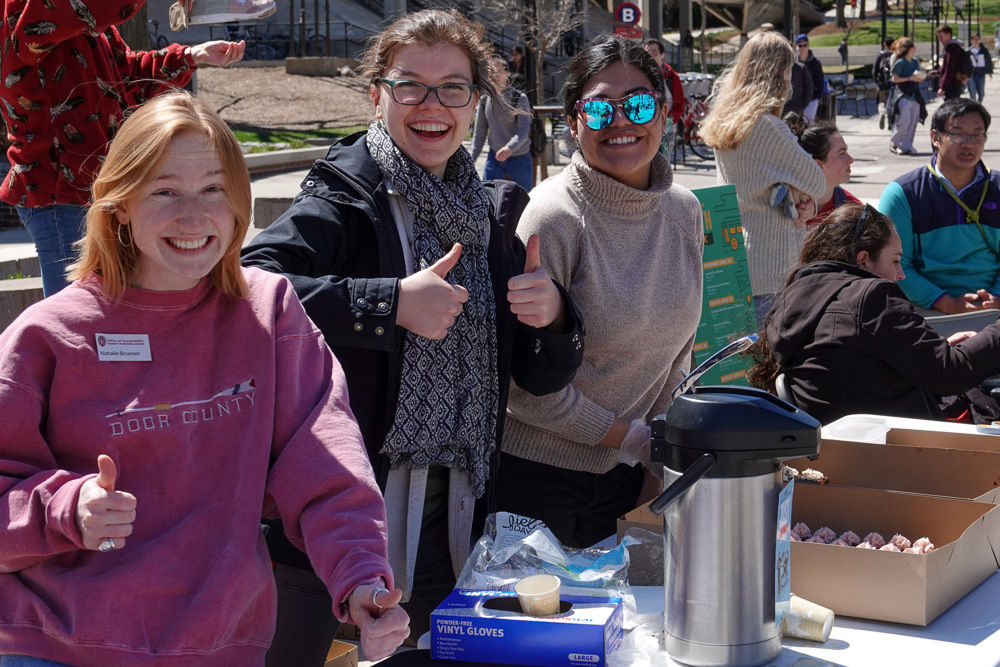 Earth Week partnerships not only exposed more people to sustainable organizations on campus, but also strengthened other events that might not have incorporated sustainability otherwise. WASB member Daniel Hawley related that "the Day of Service team tremendously enjoyed working with the Office of Sustainability as we looked to reconceptualize what it means to serve one's community. Now the event can continue to expand into the realms of social and environmental justice."
Earth Week culminated in the Nelson Institute's annual Earth Day Conference at Monona Terrace. For the second year, Office of Sustainability staff and interns worked with staff from Monona Terrace and the Nelson Institute to run a Zero Waste conference. For 2019, the landfill diversion rate—meaning the waste materials that were kept out of the landfill and were instead recycled, composted, or reused—was a remarkable 98.8%.
For a full listing of this year's events, visit the Earth Week page here. If you or your organization would like to be involved in Earth Week 2020, the Office of Sustainability invites you to get in touch.
By: Nathan Jandl