Overview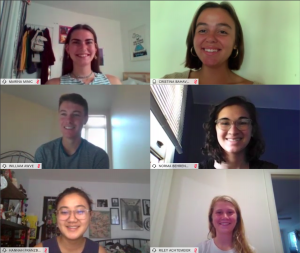 The Green Labs intern team aims to help all laboratories on campus to become more sustainable. Our consultation services provide UW–Madison students, faculty, and staff the information and tools they need to better understand the impacts of their practices and create healthy and sustainable laboratory environments.
COVID has changed our practices, but WE ARE STILL CERTIFYING LABS! We will follow our general guidelines under the "Green Labs Certification" tab, however we will now conduct virtual walk-throughs. This change will be implemented until it is safe for our interns to enter your lab spaces. Thank you for being accommodating during this unusual time. We look forward to working with you!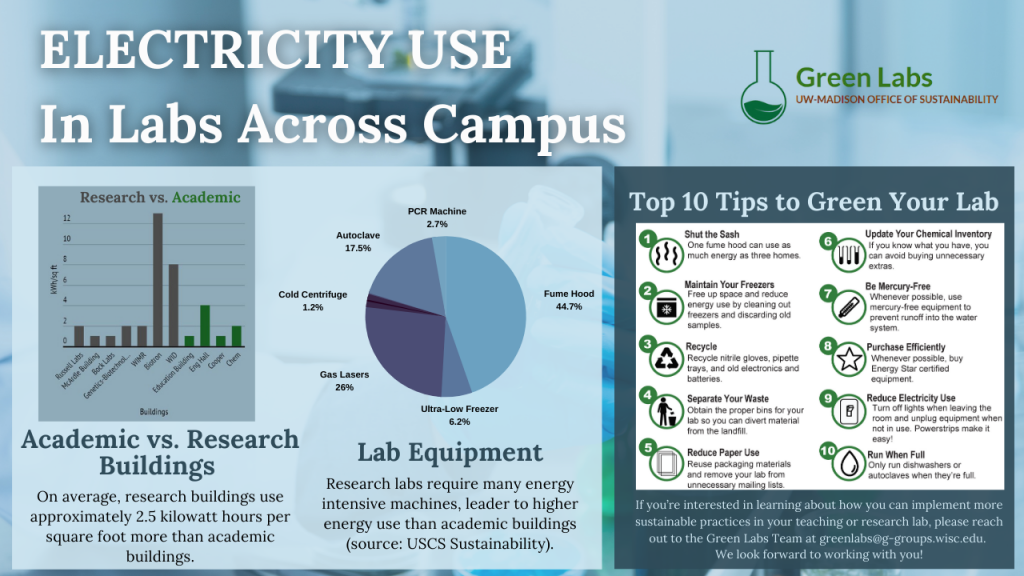 Green Labs Certification
The Green Labs Certification program recognizes campus labs for their efforts in reducing their overall environmental impact. The program is designed to educate and empower labs to make more sustainable choices by assessing energy use, waste streams, and purchasing. The certification process takes approximately 8-12 weeks, but the completion time may differ depending on your lab. By going through this program, you are helping fulfill the university's strategic priority of Resource Stewardship: to "promote environmental sustainability through our own campus operations, integrated with research and education."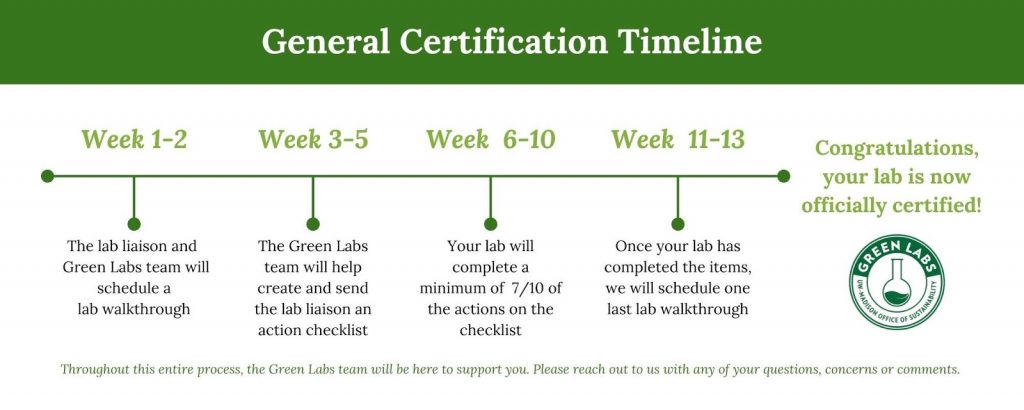 How to get certified:
Contact the Green Labs team at greenlabs@g-groups.wisc.edu to set up a lab walk-through 

Click overview to enlarge.

Our student interns will conduct a walk-through of your lab. On the walk-through they will learn about the waste and recycling, energy and water, and purchasing habits of the lab. Following the walk-through, our team will put together an action checklist that is tailored to your lab.

Possible walk-through questions:

How often are items shipped to the lab?
What items are most often thrown out due to expiration?
What kinds of instruments/appliances are used?
What things need to go through the autoclave and how often?
What are some of the most common items that the lab purchased on a regular basis?

Complete an action checklist for your lab

Interns will work with your lab to create an action checklist of opportunities to make your lab more sustainable. Each action checklist consists of 10 action items that the lab can complete to reach sustainability goals. Once 7/10 items are complete, please contact the Green Labs team for a follow-up walk-through. Throughout the process, our team will serve as a resource for any questions or concerns your lab may have and we look forward to working with you!

Review accomplishments and finalize the certification
Meet Our Certified Labs!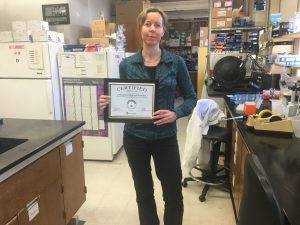 USDA Breeding and Genetics Lab – January 2020
Green Liaison: Christy Stewart, Lab Manager
Research Animal Resources and Compliance Lab (RARC) – November 2019
Green Liaison: Luke Brinkman, Trainer
Center for Technology Enhanced Nursing – March 2020
Green Liaison: Nathan Stack, Administrative and Operations Support Assistant, School of Nursing
Koch Lab – January 2020
Green Liaison: Ming-Yi Cho, Postdoc
Resources for Labs
Below, you'll find a directory of resources that are available both on- and off-campus. If you use a tool we don't have listed that makes your laboratory a more sustainable place, or if you find something new, please contact us.
To learn more about the program, to ask questions, or to make suggestions, please write to greenlabs@g-groups.wisc.edu.