To ensure a Smart Restart amid the COVID-19 pandemic, the University of Wisconsin–Madison is adopting new practices to keep the campus safe, fiscally responsible, and sustainable. The Disinfectant Bottle & Box Refill-Reuse Program aims to recapture and reuse disinfectant spray bottles from offices and laboratories. The program will be run by Facilities Planning & Management (FP&M), Materials Distributions Services (MDS) and the Office of Sustainability (OS).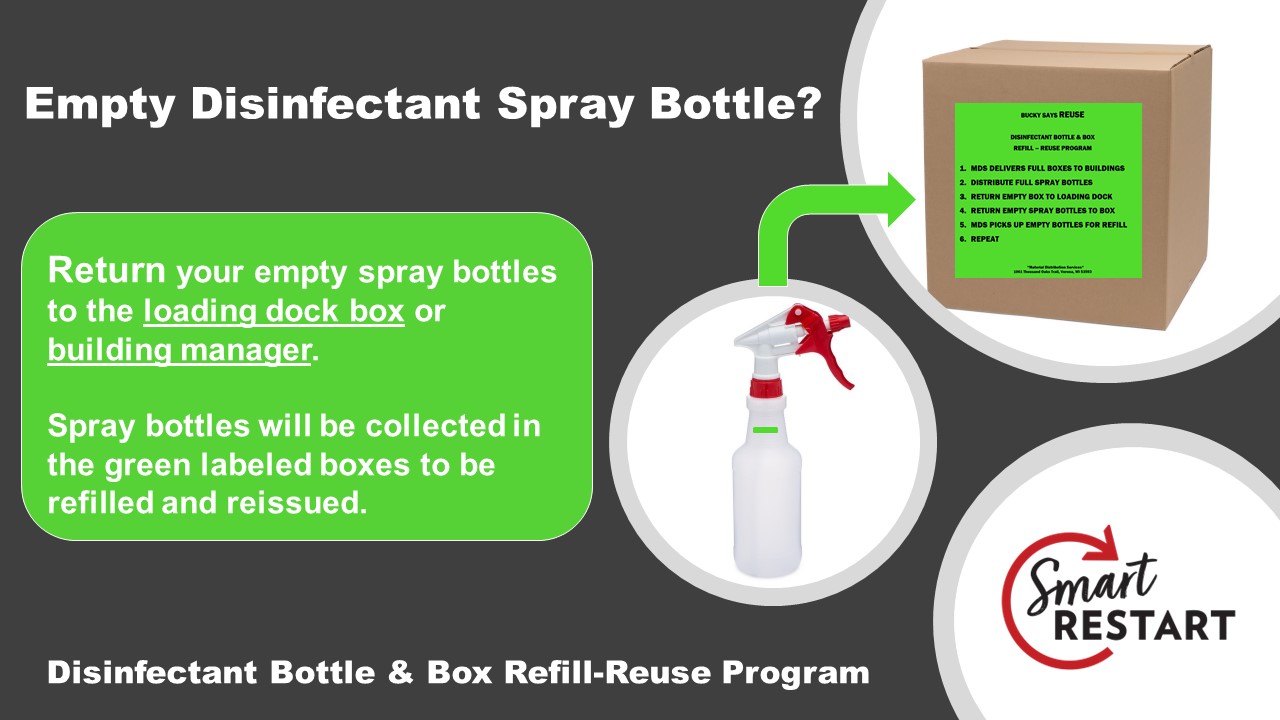 A reliable supply of high-quality disinfectant and spray bottles is hard to come by during these trying times. Since large quantities of prefilled quart bottles of disinfectant are unavailable, the University is purchasing bulk quantities of disinfectant and filling bottles in-house. The Disinfectant Bottle & Box Refill-Reuse Program optimizes resources while keeping campus operations safe. The success of the program will require staff coordination during seven distinct stages described below.

Stage 1: Materials Distribution Services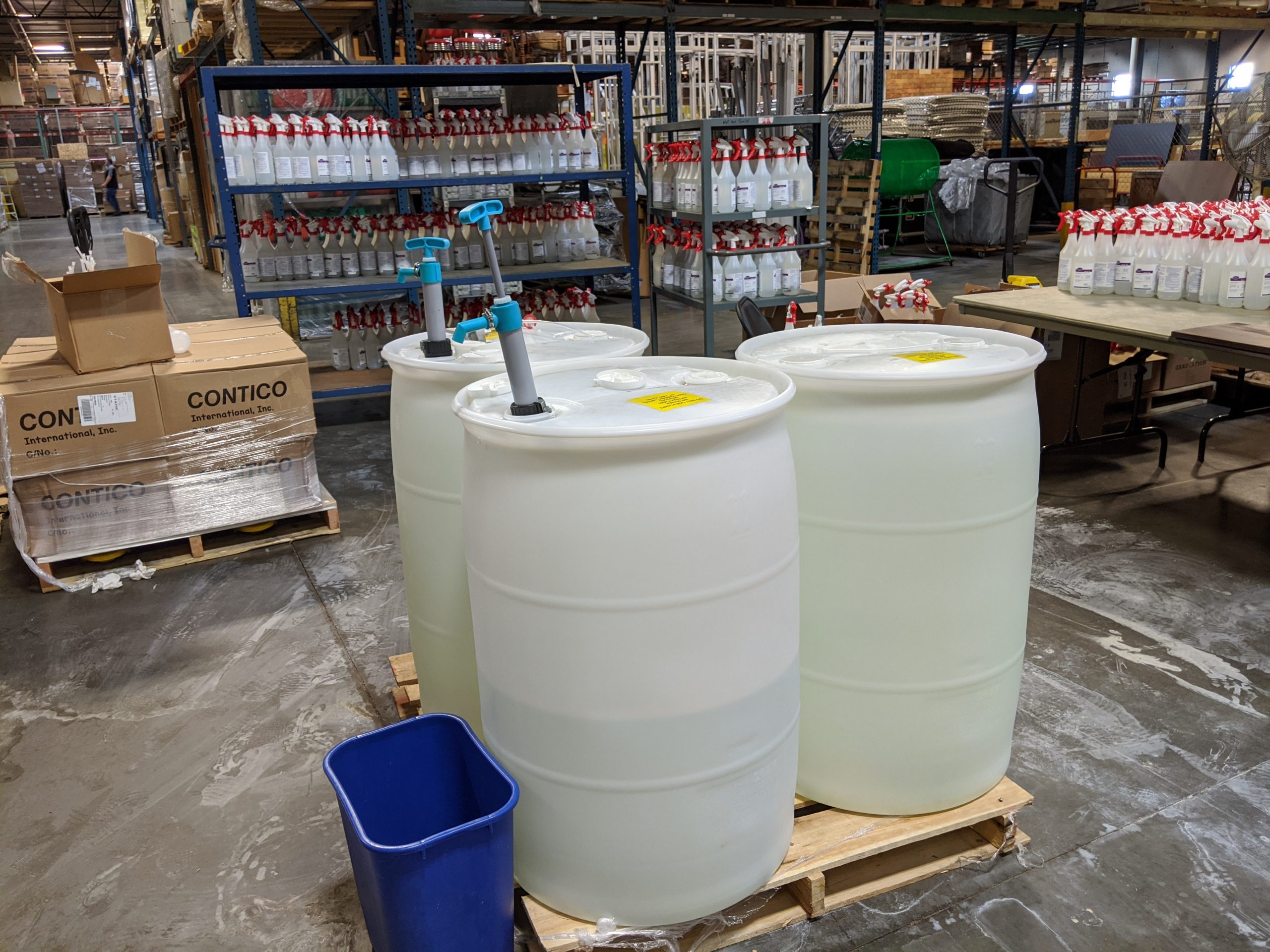 The first step of Stage 1 is ordering and accepting 55-gallon drums of disinfectant, bottles, and spray nozzles. Once received, bottles are filled with disinfectant, assembled, and properly labeled. Finally, boxes are labeled with directions and the completed disinfectant spray bottles are placed into cardboard boxes.
Stage 2: Transportation (Inbound)
Campus departments order disinfectant spray bottles from MDS as needed for office and laboratory self-cleaning purposes. The full boxes are transported to specific campus buildings by MDS.
Stage 3: Distribution
Full boxes arrive at the building loading dock. The building manager then distributes the incoming disinfectant spray bottles to building occupants and keeps the empty box at the loading dock to reuse as a collection box for the empty bottles.
Stage 4: Use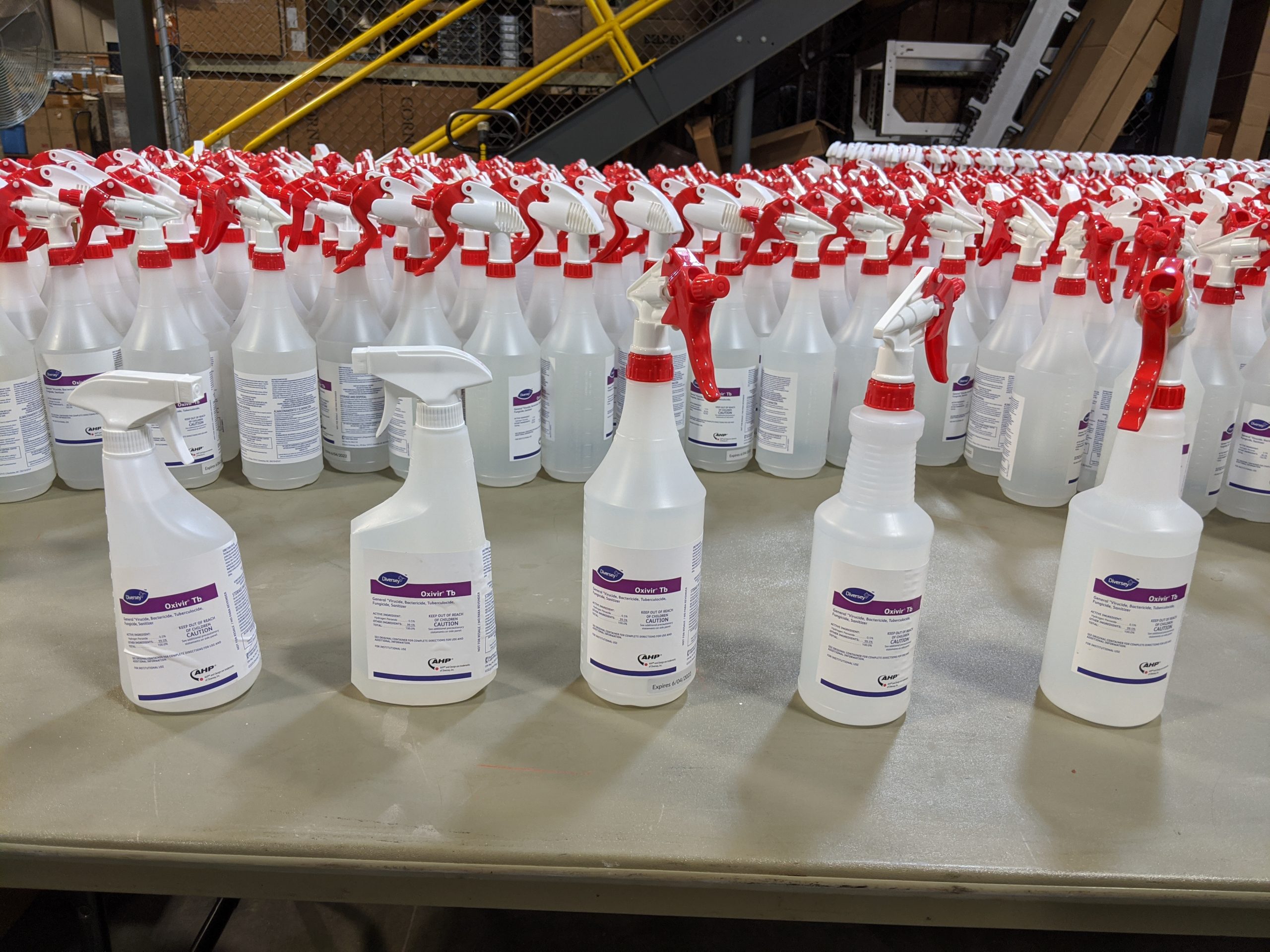 Personnel are informed about the program to reuse and recapture spray bottles. The office and laboratory personnel use the disinfectant spray to sanitize working surfaces.
Stage 5: Empty Bottle
On a daily basis, office and laboratory occupants are responsible for sanitizing their working surfaces. The custodial staff will have reduced cleaning duties in these spaces. Once the sanitizing solution is gone, the last person who uses the spray bottle will be reminded by the green instruction sticker to properly reuse the bottle. The instructions indicate that personnel should notify their purchasing group to order more disinfectant spray when appropriate.
Stage 6:  Recovery
The empty spray bottles and sprayers are returned to the building manager or loading dock. The bottles are collected in the original box labeled with the green instruction label.
Stage 7: Transportation (Outbound)
Once the boxes of empty spray bottles are full, the boxes are transported to MDS. Then Stage 1 is repeated, and the process starts over again with repurposed spray bottles.
By participating in the Disinfectant Bottle & Box Refill-Reuse Program, you can do your part for a smart and sustainable restart! Every stage is important to the success of this program. If you have additional questions or issues, please fill-out the hyperlinked Disinfectant Bottle & Box Refill-Reuse Program Form.
Be safe. Be responsible. Be sustainable.
By: Travis Blomberg (Campus Resource Coordinator)