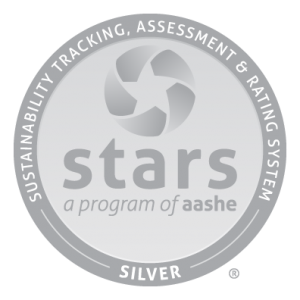 In 2017 campus governance units resolved that UW–Madison create and implement a campus-wide climate action plan. Thanks to these resolutions and with a strong commitment from the Chancellor, the university collected data in accordance with STARS, the Sustainability Tracking, Assessment & Rating System. STARS offers varying levels of certification depending on points earned by an institution. Collectively, colleges and universities enjoy an expanded understanding and responsibility for sustainability as a result of measuring and tracking their efforts. It also provides a mechanism for new ideas to be generated and helps engage the community toward real progress.
The STARS data collection process was the product of cross-campus partnerships and collaboration. Results of the STARS assessment informed the strategic framework developed by the Sustainability Advisory Council.
On May 18, 2022, UW–Madison received a second STARS silver rating. Access the public report here.
Annual Reports
Semester Reports
Fiscal Year Reports
Climate Action Resolutions (2017)

Reaching for the STARS
Below, you can view our data collection process for the STARS report. Sustainability efforts across campus are divided into four categories: Planning & Administration, Academics, Operations, and Engagement. Each category includes secondary and tertiary categories for which sustainability efforts are measured and points are accrued. Data is current as of May 18, 2022.
Sustainability Progress, Table View
Academics
Subcategory: Curriculum

| Credit Title | Points Earned | Points Possible |
| --- | --- | --- |
| Academic Courses | 6.57 | 14 |
| Learning Outcomes | 1.89 | 8 |
| Undergraduate Program | 3 | 3 |
| Graduate Program | 3 | 3 |
| Immersive Experience | 2 | 2 |
| Sustainability Literacy Assessment | 2 | 4 |
| Incentives for Developing Courses | 0 | 2 |
| Campus as a Living Laboratory | 4 | 4 |
Subcategory: Research

| Credit Title | Points Earned | Points Possible |
| --- | --- | --- |
| Research and Scholarship | 9.70 | 12 |
| Support for Research | 2 | 4 |
| Open Access to Research | 1.33 | 2 |
Engagement
Subcategory: Campus Engagement

| Credit Title | Points Earned | Points Possible |
| --- | --- | --- |
| Student Educators Program | 0.34 | 4 |
| Student Orientation | 2 | 2 |
| Student Life | 2 | 2 |
| Outreach Materials and Publications | 1.60 | 2 |
| Outreach Campaign | 4 | 4 |
| Assessing Sustainability Culture | 0.25 | 1 |
| Employee Educators Program | 1.53 | 3 |
| Employee Orientation | 0.01 | 1 |
| Staff Professional Development | 0 | 2 |
Subcategory: Public Engagement

| Credit Title | Points Earned | Points Possible |
| --- | --- | --- |
| Community Partnerships | 3 | 3 |
| Inter-Campus Collaboration | 3 | 3 |
| Continuing Education | 2.81 | 5 |
| Community Service | 2.35 | 5 |
| Participation in Public Policy | 2.00 | 2 |
| Trademark Licensing | 2 | 2 |
Operations
Subcategory: Air & Climate

| Credit Title | Points Earned | Points Possible |
| --- | --- | --- |
| Emissions Inventory and Disclosure | 3 | 3 |
| Greenhouse Gas Emissions | 2.41 | 8 |
Subcategory: Buildings

| Credit Title | Points Earned | Points Possible |
| --- | --- | --- |
| Building Design and Construction | 1.25 | 3 |
| Building Operations and Maintenance | 0.16 | 5 |
Subcategory: Energy

| Credit Title | Points Earned | Points Possible |
| --- | --- | --- |
| Building Energy Efficiency | 3.46 | 6 |
| Clean and Renewable Energy | 0 | 4 |
Subcategory: Food & Dining

| Credit Title | Points Earned | Points Possible |
| --- | --- | --- |
| Food and Beverage Purchasing | 0.57 | 6 |
| Sustainable Dining | 2.00 | 2 |
Subcategory: Grounds

| Credit Title | Points Earned | Points Possible |
| --- | --- | --- |
| Landscape Management | 1.03 | 2 |
| Biodiversity | 1 | 2 |
Subcategory: Purchasing

| Credit Title | Points Earned | Points Possible |
| --- | --- | --- |
| Sustainable Procurement | 1.75 | 3 |
| Electronics Purchasing | 0.24 | 1 |
| Cleaning and Janitorial Purchasing | 0.02 | 1 |
| Office Paper Purchasing | 0.48 | 1 |
Subcategory: Transportation

| Credit Title | Points Earned | Points Possible |
| --- | --- | --- |
| Campus Fleet | 0.05 | 1 |
| Commute Modal Split | 3.54 | 5 |
| Support for Sustainable Transportation | 1 | 1 |
Subcategory: Waste

| Credit Title | Points Earned | Points Possible |
| --- | --- | --- |
| Waste Minimization and Diversion | 4.42 | 8 |
| Construction and Demolition Waste Diversion | 0.93 | 1 |
| Hazardous Waste Management | 1 | 1 |
Subcategory: Water

| Credit Title | Points Earned | Points Possible |
| --- | --- | --- |
| Water Use | 4.42 | 5 |
| Rainwater Management | 1 | 2 |
Planning & Administration
Subcategory: Coordination & Planning

| Credit Title | Points Earned | Points Possible |
| --- | --- | --- |
| Sustainability Coordination | 1 | 1 |
| Sustainability Planning | 3.5 | 4 |
| Inclusive and Participatory Governance | 2.12 | 3 |
| Reporting Assurance | 1 | 1 |
Subcategory: Diversity & Affordability

| Credit Title | Points Earned | Points Possible |
| --- | --- | --- |
| Diversity & Equity Coordination | 1.44 | 2 |
| Assessing Diversity & Equity | 1 | 1 |
| Support for Underrepresented Groups | 1.92 | 3 |
| Affordability and Access | 3.19 | 4 |
Subcategory: Investment & Finance

| Credit Title | Points Earned | Points Possible |
| --- | --- | --- |
| Committee on Investor Responsibility | 0 | 2 |
| Sustainable Investment | 0 | 4 |
| Investment Disclosure | 0 | 1 |
Subcategory: Wellbeing & Work

| Credit Title | Points Earned | Points Possible |
| --- | --- | --- |
| Employee Compensation | 0.2 | 3 |
| Assessing Employee Satisfaction | 0.22 | 1 |
| Wellness Program | 0.75 | 1 |
| Workplace Health & Safety | 0.98 | 2 |